5 Lessons from a Yoga Ashram in Rishikesh
5 Lessons from a Yoga Ashram in Rishikesh
Coder and yoga practitioner, Claire Byrne writes about how yogis and coders have a lot in common, mainly in the pursuit of understanding how the world works. Here's an excerpt from an article where Claire talks about how yoga eased the physical ailments (inactive spine, tight joints and muscles) and mental ailments (stress, distorted breathing patterns) caused by life in front of a computer screen.
Last year, I spent a month in a yoga ashram in the North of India. The bell went off every morning at 5 a.m. Half an hour of meditation in the bitter cold was followed by two hours of yoga and then breakfast, which was consumed in silence looking out at the mountains. Yoga students spent six days a week in classes on philosophy, anatomy, and teaching methodology, did homework in the evenings and were asleep by 9:30 p.m. No alcohol, no meat, no caffeine, no screen time, no chairs. I've rarely been happier.
Read more about Claire's adventures in Rishikesh, India and on how coders and travelers can benefit from yoga.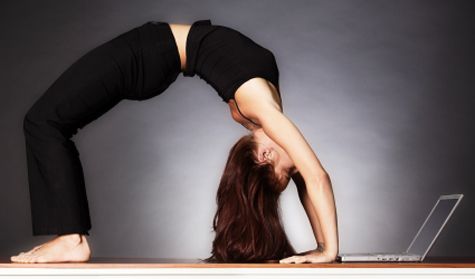 In case you're curious about the Rishikesh ashram Claire studied at, here's the link: Anand Praka's Yoga Ashram.
Photo credit: Gaiam