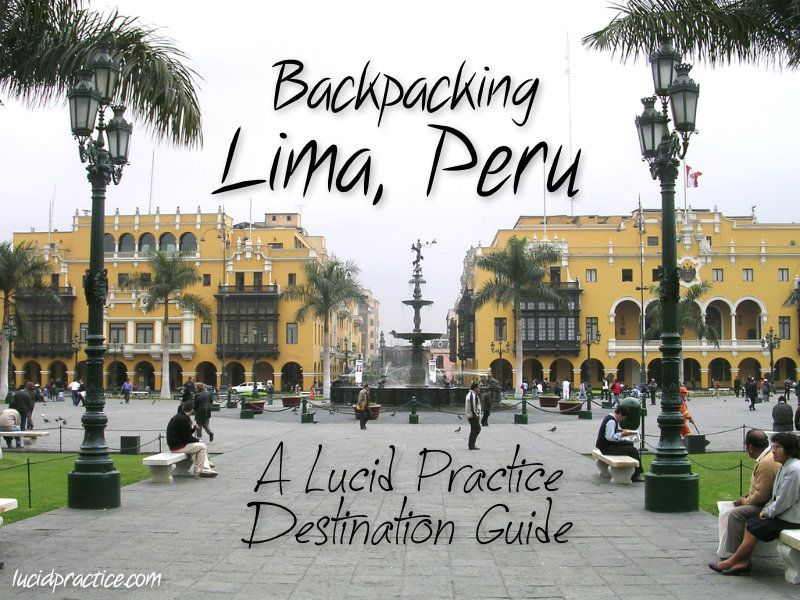 Backpacking Lima Peru- A Lucid Practice Destination Guide
Backpacking Lima Peru : A Travel Guide
Lima Peru: How to get there, where to stay, and what to do:
Our first encounter with the city of Lima was arriving on a sixteen hour bus from Piura, Peru. We saw the "Welcome to Lima" signs and thought we had made it. Well, it wasn't until two hours later after navigating through morning traffic that our bus finally reached its final destination in Central Lima. We learned that this mega capital is made up of many neighborhoods which might as well be their own cities. Nearly nine million people live in or around Lima, Peru.
Even with long taxi rides and lots of traffic to deal with, we loved our stay in Lima. In what major city can you find a desert with great surfing? This city really has it all – possibly the best gastronomy in South America, history that will amaze, and gorgeous cliffs overlooking Pacific Ocean beaches.
Lima is an international city that caters to all types of travelers. We met people from all over the world – businessmen, backpackers, rastas – all types! We ended up staying five days and loving our visit.
In this guide we will  provide you with details to help you navigate your way through Lima.
How to get to Lima Peru :
It's quite easy to get to the biggest city in Peru.
Getting to Lima from the North of Peru:
In the north of Peru you can literally catch a bus from any large city. We caught a 16 hour bus from the beach town of Piura.
Getting to Lima from Ecuador:
It's a bit trickier getting to Lima from Ecuador by bus. We wrote about the patient process of traveling from Ecuador to Lima.
Getting to Lima from Cusco:
Many people come from Cusco on their journey from South to North. There are 24 hour buses from Cusco. We opted to fly to Cusco after realizing that the flight costs only $40USD more than the bus. Go to any Peruvian airline kiosk around Peru to book your flights to Cusco.
Where to stay in Lima Peru :
When deciding where to stay in Lima, Peru, this will depend on your budget and travel style. Kate and I enjoy interacting with other travelers, so we opted to stay at 1900 Backpackers Hostel. "1900" is a large hostel located in Central Lima. It is located in a fascinating old mansion built around 1900, hence the name. We loved the location – it is very close to the Plaza de Armas and the government buildings. It's also next to a brand new mall and supermarket — perfect for a budget traveler.
In addition to the the great location, there are fun activities such as salsa classes. The bar and pool area make happy hour a lot of fun. If you are young and traveling through Lima we certainly recommend staying at 1900. You'll feel safe and you will meet many new friends. 
5 Best Things to do in Lima Peru :
1)     Visit Miraflores
Miraflores is a beautiful neighborhood in Lima located right on a cliff overlooking the Pacific Ocean. Definitely take a day to wander about Miraflores and visit the world's (potentially) most beautiful mall, Larco Mar. Miraflores is also home to some of South America's best restaurants. If you are looking to go out in Lima, check out Barranco, which neighbors Miraflores. Every person we have talked to loved their experience in Barranco, where the food, ocean, and nightlife make for a perfect night.
2)     Go to the Lima Magic Water Show 
This was a really, really cool experience. Whether you are traveling with a significant other or by yourself this is a great nighttime activity. The magic water circuit offers thirteen water fountains developed by the city. All fountains combine music, light, and images. A true must-see in Lima. Cost: $2 USD.
3)     Drink a Pisco Sour at The Grand Bolivar Hotel in Lima
If you haven't heard of Pisco, it is the most popular alcohol in Peru and Chile. The first pisco sour was made at The Grand Bolivar Hotel, a central Lima staple back in the 1920's. The grand foyeur and old lounge-style bar stay true to this hotel's historical feel. Cost: $15 USD for two people.
4)     Visit the Plaza de Armas in Lima – Home to the President's Residence and the Massive Cathedral
This plaza is the main square and center of Lima. Here you will find the Archbishop's Palace, the Government Palace, and a massive Cathedral, all surrounding a beautiful fountain. It is definitely worth a visit to understand some of the history of Lima.
Note: Image of the plaza is at the top of the page.
We had our introduction to Inca history at the Larco Museum, which houses over 45,000 Pre-Colombian artifacts. If you are traveling on to Machu Picchu, a visit to this museum is a great way to learn about Inca history. We were excited to get a deeper look into the history that shaped the country we were exploring. It was a bit expensive to enter at $15 USD per peson.
What to eat in Lima, Peru:
Lima is home to some of the world's best restaurants – literally.
I advise you to splurge and visit Astrid y Gaston. Many publications have rated it as a top-twenty restaurant in the world. It is also ranked as the number two restaurant in South America. While it's a bit pricey for a budget traveler at $50-70 USD per person, you will be experiencing a meal that is "once in a life time" good.  Gaston Acurio started this restaurant in 1994 and now has restaurants in Chile, Colombia, and Panama among many other countries around the world. The food will speak for itself.
Average Daily Cost of Travel in Lima, Peru – $40 Per Day
Hostel: $10 USD
Food: $10-15 USD
Activities: $15-20 USD
Transportation: $5 USD
Total: $40-50 USD
Traveling to Peru or Lima, Peru for the first time?
Post a question in the comments section, we'll respond with advice!