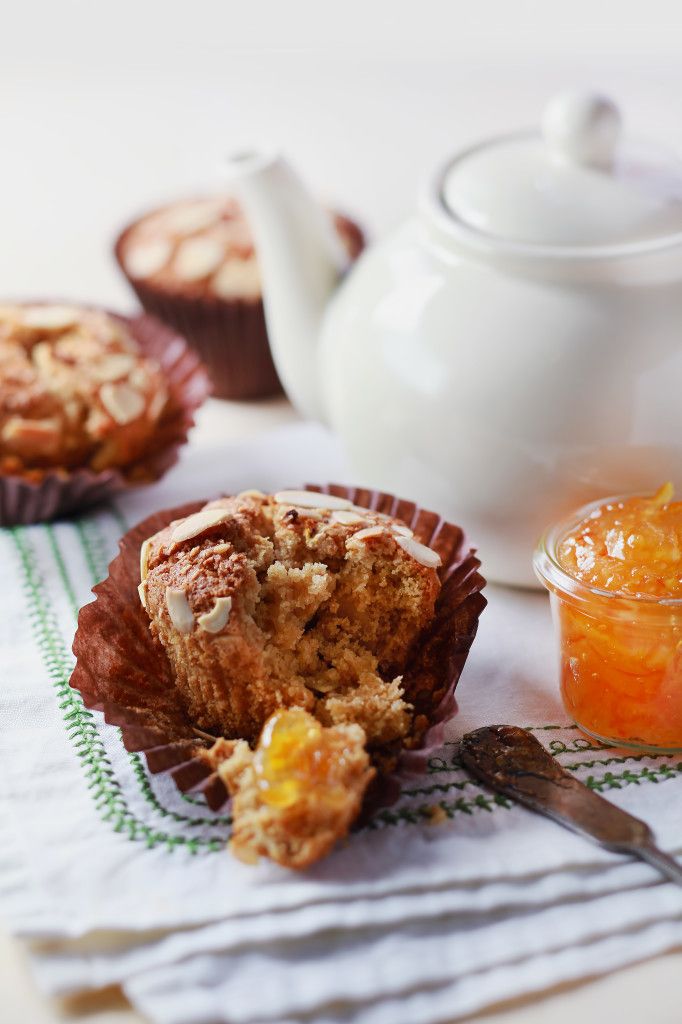 Gluten Free Muffins: Orange Almond Coconut
Delicious Gluten Free Orange Almond Coconut Muffins
These delicious gluten free muffins are an amazing dessert/snack that won't leave you feeling bloated or tired afterwards. It's entirely possible to make good tasting, healthy sweets!
Instead of regular white flour which is highly processed and generally unhealthy, in this recipe, we turn to a combination of brown rice flour, almond flour, and arrowroot. The flavors of orange, coconut and almond blend nicely here. Instead of refined sugar, you can use maple syrup and sucanat for a subtle backnote of sweetness.
Serve these gluten free muffins for breakfast, brunch, dessert or an afternoon snack. This recipe will yield 10 muffins.
Gluten Free Muffins Ingredients:
1 cup (177 g/6.25 oz) brown rice flour
2/3 cup (58 g/2 oz) almond flour
1/2 cup (70 g/2.46 oz) arrowroot
1/3 cup (56 g/2 oz) Sucanat
2 tsp (10 g/0.34 oz) baking powder
1/2 tsp (1.5 g/0.05 oz) kosher salt
1/3 cup (100 g/3.5 oz) maple syrup
1/2 cup (121 g/4.3 oz) orange juice
Finely grated zest of 1 orange
1 1/2 tsp (6 g/0.21 oz) vanilla extract
1/2 cup (42 g/1.5 oz) chopped almonds
1/4 cup (21 g/0.75 oz) unsweetened shredded coconut
Gluten Free Muffins Instructions:
Preheat oven to 375°F. Line 10 cups in a 12-cup muffin pan with paper liners, or grease them well with coconut oil.
In a large bowl, mix together the brown rice flour, almond flour, arrowroot, Sucanat, baking powder and salt. Make a well in the center, then add the maple syrup, orange juice, orange zest and vanilla. Gradually stir the dry ingredients into the wet ones, mixing just until blended. Stir in the almonds and coconut.
Spoon the batter into the prepared cups, filling them two-thirds full, and smooth the top of each muffin. Bake for 12 to 16 minutes, or until a toothpick inserted into the center of the muffins comes out clean. Cool the muffins in the pan, set on a wire rack, for at least 15 minutes before serving.
Please leave a comment in the comments section if you have any questions!
Have fun and bake with love! Enjoy 🙂