Growing Organic Kale for Beginners
Growing Organic Kale for Beginngers
Growing organic kale and spinach is easy once you know the basics.
This post is about how to grow and care for your kale once it is in the growing stage (having already been planted). If you're interested in the initial planting of kale, see our post on "Should I Start with Kale Seeds or Baby Kale Plants?"
We were successful growing organic kale and we've been reaping the plentiful rewards ever since! This post will explain why you'd consider growing kale (or any vegetable), how to care for & nourish growing kale, and how to harvest kale once it's ready. Lastly, we will discuss how to prepare and eat harvested kale.
Reasons to Grow your own Vegetables
To plant, nurture, water, feed, harvest and then finally eat a vegetable, creates a feeling that everyone should experience once in their life. There is such a powerful connection you feel when eating vegetables you've grown yourself.
Why Grow Kale?
Growing organic kale is one of the best ways to start your home garden. Not only is kale one of the most healthy vegetables, it's also one of the easiest to grow and has one of the longest growing seasons. Kale grows in the Spring through the Summer and deep into Autumn (in the Northeastern region of USA.) Thanks to Gerri (Danielle's friend) from Schenectady, NY for the info on the long growing season!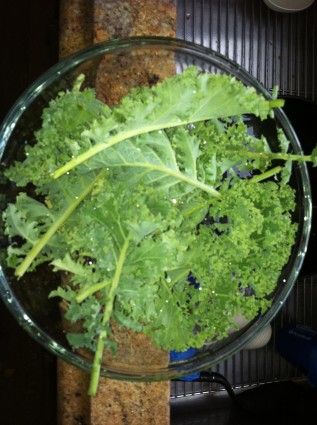 Harvesting Organic Kale
When growing organic kale, keep in mind that the harvesting method is very important. Rule number one is that when picking kale from your plant, it's best to take the whole stem from the stalk as opposed to just breaking off the leaf. This ensures that nutrients won't be transported from the stalk to what has turned into a stem with no prospects of growing a new leaf. This practice helps distribute the nutrients from the soil to the stems and leaves that are still growing.
It's wise to first harvest the outer leaves since they are the most mature and ready to eat. Whenever a leaf or a stem is connected to a stalk, it is drawing prana (energy, lifeforce) and nutrients from the stalk. The stalk receives prana from the soil, the stem receives prana from the stalk, and the leaf receives prana from the stem. There comes a point when the kale leaf is waiting to be harvested and by keeping the stem and leaf on the stalk, you are doing a disservice to the younger leaves by depriving them of much needed nutrients.
The stems and leaves feed off each other's growth so don't harvest too many kale stems/leaves at once or you might end up killing the plant.
What to Eat Kale with
Growing organic kale has been quite the adventure. So far, we've harvested 12 servings of kale from our garden. In the span of 3 months, we've gone from a group of clueless "city guys" (complete beginners) to being able to supply ourselves with more kale than we could have imagined. We've made kale chips, kale salad, kale smoothies, and we've added kale to just about any dish you can imagine.
Differences Between Home Grown Organic Kale and kale from Whole Foods:
Fresh kale is more rich and dense (probably because it hasn't traveled across the country in the back of a truck for days)

Fresh kale is…. well, fresher (an obvious observation but one can't help but taste and observe the difference in moisture levels)
Fresh kale tastes better (this might be because we have great soil and compost & practice crop rotation whereas the big agriculture companies might not)
Being self+sustainable "feels right." Imagine the days when this practice was the norm! (it's amasing being able to pick fresh kale every few days instead of having to go to the store. The feeling of "we grew this" is special)
Have you had similar experiences growing organic kale? How do you like to eat kale?