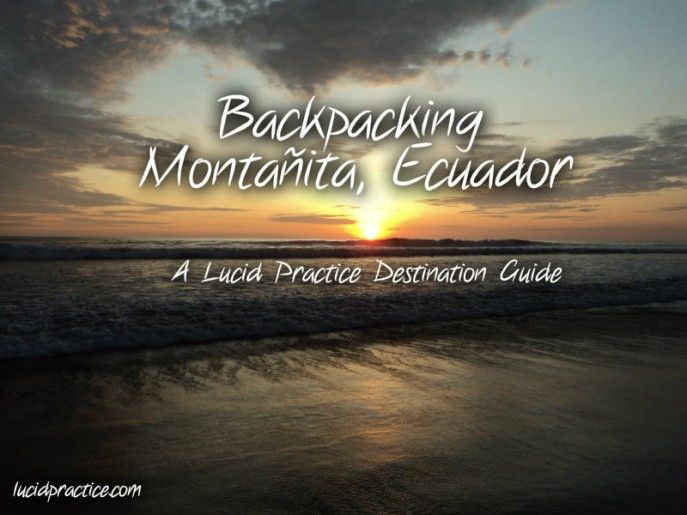 Backpacking Montanita Ecuador – A Lucid Practice Destination Guide
Backpacking Montanita Ecuador : A Travel Guide
Montanita Ecuador : How to get there, where to stay, and what to do:
For the past six months I had contested the idea of going to Montanita Ecuador. The sun-soaked beach town is known around the world for its surfing and party scenes. Given its reputation for catering to a rowdy crowd, Montanita didn't seem to be the ideal location to spend a few weeks relaxing on the beach.
Much of Montanita's visitors consists of people enjoying the surf during the day and the party all night. When my girlfriend Kate finally coaxed me into stopping by for just two days, we ended up spending ten days in Montanita and the coast of Ecuador!
We found that there is a really beautiful, peaceful area here that goes overlooked by some. We also had incredible fun learning how to surf in Ecuador's most famous break. All in all, we loved this paradise and recommend it to everyone visiting Ecuador. Montanita and the beautiful beaches around it have turned out to be one of our favorite destinations to date on our South America backpacking trip.
How to get to Montanita Ecuador :
From Guayaquil: It is very easy to get to the Ruta del Sol (Route of the Sun) on the Ecuadorian Pacific coast from Guayaquil. The bus ride to Montanita from Guayaquil is 2.5 hours.
The Coop Libertad Peninsular Buses (CLP bus) leave Guayaquil at 5AM, 6AM, 7AM, 1PM, 3PM, and 430 PM. If you're traveling on a Saturday during the Ecuadorian summer season, make sure to be at the bus station very early! The line to buy tickets to Montanita in the late morning or early afternoon resembles your worst Black Friday nightmares.
From Quito: We have heard to always go directly to Guayaquil and then take a bus from Guayaquil to Montanita. Not that you will likely be in danger, but there have been cases of buses being robbed from Quito on their way down the coast from the North, day or night. We recommend going directly to Guayaquil and taking a short 2.5 hour bus from there.
Departing Montanita: Buses leave for Quito at 4:45AM, 5:45AM, 10AM, 1PM, 3PM, and 5PM.
Best way to get around in Montanita Ecuador :
You will be able to walk everywhere in Montanita Ecuador. The entire town is ~10 square blocks. If you are staying in one of the small neighboring beach towns it is very easy to get a taxi at the taxi stand near the bus station to head back home.
If you are planning for an extended stay in Montanita you may want to rent a bike. It was very nice being able to pop on a bicycle, especially if you are staying in the peaceful, quiet section of Montanita.
Visiting neighboring towns? Jump on the "Green Bus" for a cheap bus ride ($2.50-4.00) to the beautiful neighboring cities of Las Tunas, Ayampe, Puerto Lopez, Olon, and more.
Where to stay in Montanita Ecuador :
Hostel Esperanto. We have been raving about our experience at Hostel Esperanto. We have traveled the world and visited beautiful beaches, but there are not many views like the view from the terrace here. Hostel Esperanto is set in the low-key area of Montanita. You can walk for five minutes in one direction and join the wild parties or a enjoy a great meal. We loved having the opportunity to go out and join the party, but when it was time to call it a night, it was very comforting to be able to walk back to the hostel and enjoy a peaceful, quiet sleep. In the other direction, a five minute walk will take you to the best surf areas and surf schools.
Hostel Esperanto is a very clean and well-maintained hostel, which is something that is hard to find in a party locale.
Please introduce yourself to Jorge, the owner, during your stay. Jorge is a native Ecuadorian who is passionate about Montanita, surfing, and traveling. He will be able to give you great advice and history about the city and surrounding areas – where to eat, where to surf, where to party.
Bonus: If you have the time, go visit Jorge's surf school in Las Tunas, Casa Esperanto. Not many people will have the experience you will have in Montanita if you combine the action of Montanita with Casa Esperanto's surf school in Las Tunas. We felt blessed to live the real Ecuadorian Montanita experience.
5 Best Things to do in Montanita Ecuador :
1)  Surf.

Montanita was discovered in the 1960's by surfers who dreamed of living in a tent community and surfing everyday. They had combed the beaches of Ecuador and determined that Montanita, by the point, offered the best break for surfers. Today, Montanita is a destination for international surfers. With its tough waves and famous tubes, Montanita presents waves for beginners while still remaining challenging enough for even the most advanced surfers. Surf lessons cost $20 for two hours with an instructor. Renting a board costs $5 per hour.
Note: We were beginners and had a great time learning in the beginner break. 
2) Visit the neighboring towns of Las Tunas, Ayampe, and Olon. 

Have you ever dreamed of spending a day on a perfect beach you have all to yourself? We are told that these three cities are what Montanita was 30 years ago, before the parties and tourists. We spent five days in Las Tunas and never wanted to leave. The beaches are long, empty, spotless, and gorgeous. Las Tunas is still so unknown that it will literally be you, the waves, and open cabanas. Ayampe is known as the up-and-coming Montanita. Olon is the closest of the three, being right on the other side of the point in Montanita.
3) Party
We aren't the biggest of party-goers anymore, but in a place like Montanita it is hard to not go out and see the nightlife. On weekends it will feel like you're partying on Bourbon Street in New Orleans. We enjoyed drinking "piscolas" at some of the local cart bars that line the streets during the evening and wee hours of the night. Cheap drinks, great people watching, and great memories.
4) Practice Yoga
We recommend bringing your mat to the beach in the early morning. The water and waves are so peaceful. There are formal teacher-led practices at Casa del Sol, a beautiful retreat like setting on the point. Classes cost $8.
5)     Study Spanish
Why not practice Spanish in this international beach town? Montanita features lots of Spanish schools right next to the beach. With cheap hostels around it wouldn't be a terrible idea to use Ecuador's coast as a cheap, fun location to further your Spanish.
What to eat in Montanita Ecuador :
Find yourself a seafood restaurant while you are visiting the Ecuadorian coast. There are many options with really affordable prices. We had our best meals in Las Tunas at De Jimmy's Restaurante. Our favorites included pulpo al ajillo (octopus with garlic sauce), pescado apanado (breaded white fish lightly fried), camarones al ajillo (shrimp with garlic and butter sauce), and paella mixta (Spanish rice mixed with an assortment mussels, clams, squid, and shrimp). The seafood caught in the Pacific and sold the same day will rival any seafood experience around the globe.
Bonus: Make sure to enjoy fried plantains with your meals. We also loved Naranjilla batidos (smoothies). We recommend trying all the tropical fruit you can.
Average Daily Cost of Travel in Montanita Ecuador – $36 Per Day
Hostel: $14
Food: $12
Activities: $10
Transportation: $0
Total: $36
Traveling to Ecuador or Montanita, Ecuador for the first time?
Post a question in the comments section below, we'll respond with advice!