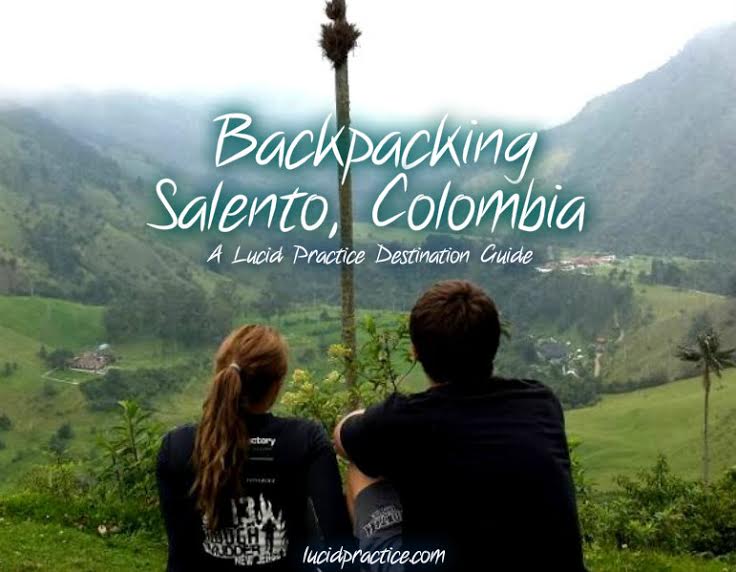 Backpacking Salento Colombia: A Lucid Practice Destination Guide
Backpacking Salento Colombia ~ Average Daily Cost $22 USD
How to get to Salento Colombia, what to do, and where to stay!
Salento, Colombia is one of of those destinations where you arrive with the intention of staying for two days and end up spending a week. It's easy to become absorbed in the peaceful beauty of the fresh, green countryside and be completely taken by the pleasant and welcoming local people.
Set in the Zona Cafeteria (Coffee Region) of Quindio, Colombia, Salento is home to less than 8,000 citizens, many coffee plantations, breath-taking vistas in every direction, and one beautiful national park. If you're spending any time in Colombia, it is definitely worth the little effort to drop in on this little town.
How to get to Salento Colombia by bus:
The most traveled way to reach Salento starts in Medellin, Colombia at Terminal del Sur (South Terminal). Unfortunately, there are no direct buses from Medellin all the way to Salento, and you'll have to choose between Periera and Armenia as the city to change buses in. While neither city is exactly a lovely tourist destination, we were strongly advised to pass through Armenia, as it offered frequent departure times, and Pereira was said to be unsuitable for tourists.
At Terminal del Sur in Medellin, there are several different transportation companies selling a variety of options. Buses leave for Armenia all day, almost every hour and you can choose between 12-passenger mini-buses or full-size buses. For this journey, we were fresh off a bus from Guatape, Colombia to Medellin and decided to continue on a night bus to Salento. After a few minutes of negotiating and walking back and forth between ticket windows, we found the best rate on a 8:30 PM mini-bus for roughly $15 USD per person.
Note: ALL Colombian bus prices are negotiable! Throw a number out and see if they accept it. We've seen prices lowered by as much as 50%! If they don't take your offer, try the next window.
The leg from Medellin to Armenia takes around 7 hours in a full-sized bus if all goes well, with one 20-minute stop for bathroom use or to purchase snacks. The mini-buses do not have a bathroom on board and should take 6 hours to complete the trip with the same bathroom stop. Our bus was delayed about an hour in the heavy traffic among semi-trucks and fellow night buses, but we've heard cases of this trip lasting 8-9 hours due to accidents on the road.
After a night of twisting and turning down mountain roads, we arrived in Armenia around 3:30 AM. If this is your first time on a Colombian bus, make sure you dress warm and bring a blanket and earplugs. The air-conditioning is cranked up all night and the driver blares music, no matter what hour it is. For this particular ride, I suggest motion-sickness medicine to anyone who is remotely prone to carsickness. The sharp turns on this windy highway had us both feeling queasy.
We waited in the Armenia bus terminal until the first bus left for Salento at 4:45 AM. This bus was only about an hour long, cost roughly $2 USD per person, and dropped us off right in the middle of the town square at 6:00 AM.
Total travel time: 9.5 hours
Total travel cost: $17 USD
5 Things to do in Salento Colombia :
1. Visit a coffee finca.
As you are traveling in the middle of one of the largest coffee production regions in the world, it goes without saying that you need to visit a coffee plantation. We had a blast at Finca de Ocasa which was a forty minute walk down the hill from La Serrana. The tour was in Spanish, but we were able to understand (beginner level Spanish) everything our tour guide was trying to explain. It was fun being able to see the entire process of production…and tasting the coffee at the end was really, really delicious!
2. Trek the Valle de Cocora (Cocora Valley)
This was an epic trek. I won't lie, it was quite hard. We had to navigate around lots of mud, water, and steep uphills, but it was easily one of the best things we did in all of Colombia. At the time it was hard, but making it to the Hummingbird House and seeing the towering wax palms is something we will remember forever. The trek takes 5-7 hours to complete.
3. Climb the stairs to the Mirador overlooking the small town of Salento
Another physical activity, but once you arrive, very rewarding! On one side of the small town there is a tall staircase up the side of a small mountain leading to the Mirador. Looking out over the pueblo of Salento was a sight to see, but the real beauty was found looking over the other side of the mountain at the natural terrain and mountains. The mirador has a great view of the river that flows near Salento, too.
4. Explore the peaceful town and stop at Cafe Jesus Martin for a cup of coffee.
Looking for the best cup of coffee in town? Stop in Café Jesus Martin and chill over a cappuccino with a slice of cake. Around the town square and down Artisan Road there are lots of fun shops selling all types of handicrafts and souvenirs. You will find clothing (sweaters, scarves), lots of trinkets for your home, and many varieties of coffee and tea.
5. Play a game of Tejo
Tejo is a sport that has been played for over 500 years in Colombia. Lots of hostels offer free tejo nights so if you visit you will certainly learn how to play.  Here is a small tejo course. People get excited to about Tejo once they learn the game involves explosives…
Where to Stay in Salento Colombia :
La Serrana Eco Farm and Hostel. As soon as you get a glimpse of this finca, you won't believe you're arriving at a hostel. Not only is the property beautifully maintained and landscaped with native flowers and beautiful gardens, it also has a view that will take your breath away. La Serrana is set atop a hill in the green Los Nevados mountain range, overlooking rolling green mountains, rivers, and rare Wax Palm trees. This home-away-from-home feels more like a luxury retreat than a $12.00 USD hostel.
Starting at $12.39 per night, La Serrana does not leave you wanting. It is equipped with a communal kitchen, comfortable beds that are made daily, clean en suite bathrooms, book and clothing exchanges, hundreds of DVD's for viewing (in English!), plenty of common areas, and hammocks. The staff will happily help you arrange taxis, coffee tours, Spanish lessons, among other things, but one of my favorite parts of this hostel was the delicious family-style dinners that helped fellow backpackers meet and connect with each other.
La Serrana is set 30 minutes from the center of town by foot or just five minutes by jeep taxi ($3 USD). In my opinion, it is worth every step to attain the views you cannot get from a hostel in town and to stay in this high quality hostel.
If you wish to stay right in town, La Floresta is the economical hostel of choice for backpackers. This hostel is not nearly in the shape La Serrana is, but is less expensive, starting at only $8 USD per night, and located just a few blocks from the center square in Salento. La Floresta offers free tourist information and cheap boot rental for trekking the Cocora Valley.
Average Daily Cost of Travel in Salento Colombia – $22 Per Day
Hostel: $12
Food: $5-6 (Make your own! There is a nice grocery store right in the town square)
Activities: $5-10
Transportation: $0 (Unless your taking a shared jeep to the Valley de Cocora – $2)
Total: $22-28
Traveling to Salento Colombia or anywhere in Colombia?
Post a question in the comments section below, we'll respond with Colombia travel advice!