LP Wrap Up: Langkawi, Malaysia – Average Daily Cost $29 Per Day
LP Wrap Up: Langkawi, Malaysia – Average Daily Cost $29 Per Day:
We had heard great things about destinations in Malaysia including overwhelming reports about an island located off the northwest of the country called Langkawi.
Langkawi is offically known as "Langkawi Jewel of Kedah." It is an archipelago of 104 islands in the Andaman Sea, some 30 km off the mainland coast of northwestern Malaysia. The islands are a part of the state of Kedah, which is adjacent to the Thai border.
By far the largest of the islands is the eponymous Pulau Langkawi with a population of some 64,792, the only other inhabited island being nearby Pulau Tuba. Langkawi is also an administrative district with the town of Kuah as largest town.
We originally found Langkawi through our European friends from graduate school, Jan and Sandrine. They called Langkawi a, "Heaven on Earth." While we were traveling in Kuala Lumpur, Malaysia, we had heard stories from fellow travelers about Langkawi's seethrough blue waters, large waterfalls, and friendly people. We knew it was a destination we had to get to.
As it turned out the stories were correct. We had a blast chilling for a week in Langkawi.
We recommend getting on a motor bike and really exploring the island. It has a lot to offer!!
Getting to Langkawi from Kuala Lumpur and Mainland Malaysia: 
Take the bus from Kuala Lumpur to Kuala Perlis. The bus will cost about about 30-40 Malaysian Ringitt which is $9-12 USD or €7-9.  Next, take the ferry from Kuala Perlis to Langkawi, this costs 18 Ringitt. So that is a total of about 58 Ringitt or $17/€13 – about as cheap as it gets. If you are lucky, you may be able to catch an AirAsia flight for around that price. But you may have to book really early or wait for a promotion to get that kind of price.
We met some awesome people on the ferry ride to the island. It was a lot of Malaysian, Indian, and Thai tourists. It seemed as if the entire boat was going on vacation and awaiting the clean beaches.
Getting to Langkawi, Malaysia from Thailand:
This is a perfect place to visit if your 30-day Thai tourist visa is expiring. There are four daily trips by ferry from Langkawi to Satun, Thailand. The boat ride duration is about an hour and fifteen minutes. A one way adult ticket is about 300 baht 30 Ringitt or $10 USD.
How Long to Stay in Langkawi, Malaysia:
You can explore the whole island in 4-5 days so it depends on what type of experience you're looking for. We're always in favor of traveling slow. We were content with reading books on the beach and casually exploring every little nook and cranny the island had to offer. You could easily stay here for a month if you're also a traveler that likes to take things slowly but we found that one week was perfect.
Where to Stay in Langkawi, Malaysia:
We did not have the best experience in terms of hostels in Langkawi. We stayed at the Gecko Guesthouse. The upside of Gecko Guesthouse is its great location. It's right near the welcome center, near the Cenang Beach, and near the main street where you can eat at the amazing local markets and restaurants.
Staying around Cenang Beach is highly recommended for a backpacker if you'd like to meet other travelers. It takes a nice motorbike ride to get to the beach but you will discover that it is a large backpacker hub. There is cheap accommodations and good cheap food.
Here are the best rated hostels according to Hostel World: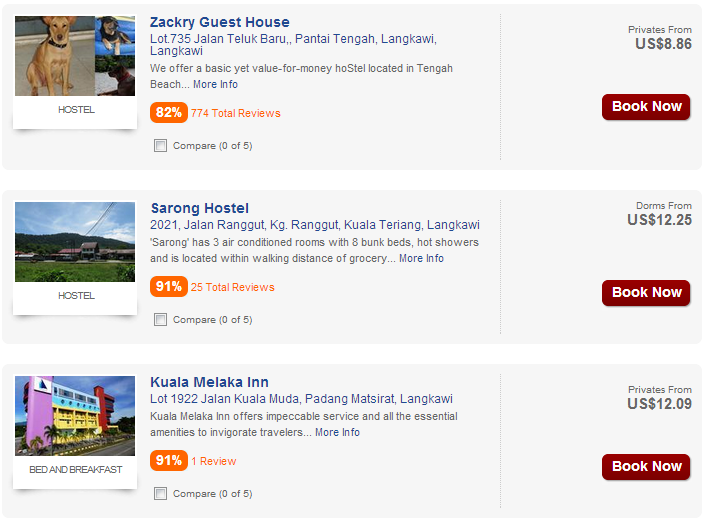 Top 5 things to do in Langkawi, Malaysia:
1. Visit Telaga Tujuh Waterfalls (pictured above)
2. Stay and party around Cenang Beach (pictured above)
3. Motorbike to the Black Sand Beach (so beautiful that we don't want to spoil it with a picture!)
4. Visit Smile at the Langkawi Welcome Center (one of the kindest people we met in all our travels, he works at the Langkawi Welcome Center and is happy to help with any questions backpackers have…. plus his name is Smile…. and he's always smiling)
5. Take a boat ride to see a massive flock of sea eagles flying and feeding in Kilim Geo Forest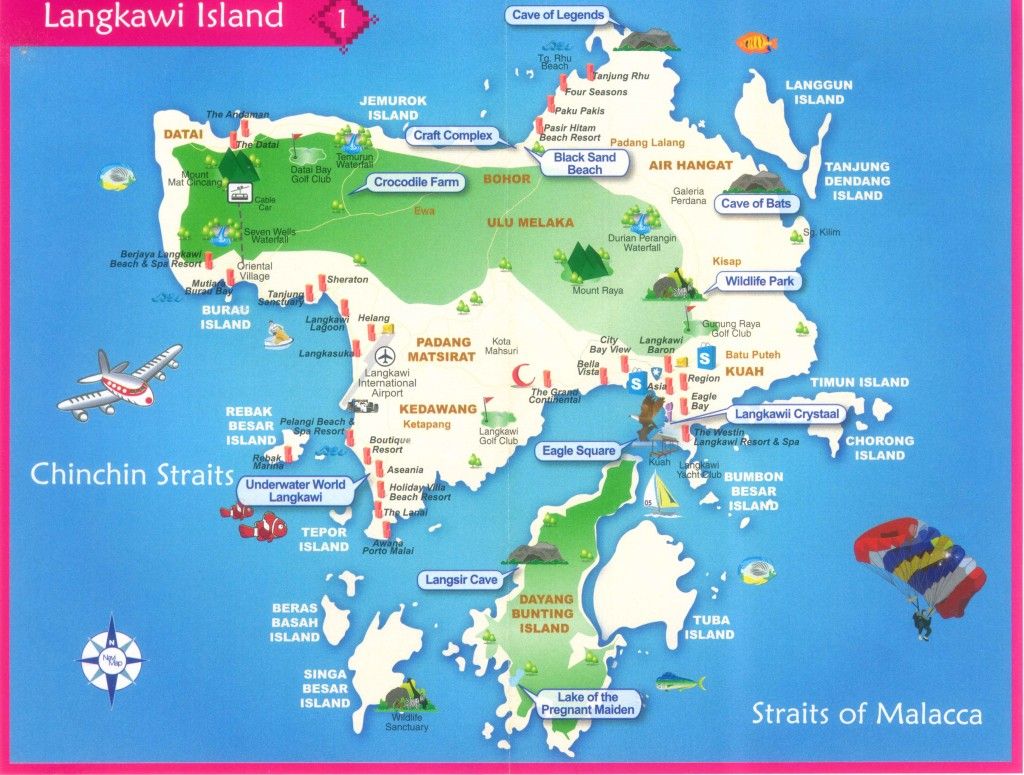 What to Eat in Langkawi, Malaysia:
To keep the budget down we recommend buying local fruit (cheap coconuts!) from local vendors. They're happy to cut the coconut so you drink the "water" and then cut the shell into pieces so you can eat the pulp.
You can get world class food in Langkawi. Penang, Malaysia is known for the best food in Malaysia — Langkawi is heavily influenced by Penang. We recommend the fresh tiger prawns, starfruit, lobsters, and any type of seafood.
Average Daily Cost of Travel in Langkawi, Malaysia – $29 Per Day
Hostel: $14 USD
Food: $12 USD
Transportation: $2 USD
Kuala Lumpur, Langkawi and Malaysia in general are more expensive than other top Southeast Asian backpacking destinations. The Ringitt is a relatively strong currency compared to the Thai Baht or the Cambodian Real (in Cambodia, USD comes out of some of the ATM machines and vendors prefer USD over the Cambodian Real.)
Another difference that travelers will find is that Malaysia is a predominantly Muslim country. This impacts the culture. We discovered this during our travels in September (the end of Ramadan) when we were woken up at the crack of dawn every day by roosters and loud Muslim prayer. What an interesting experience!
Overall, Langkawi is a wonderful city with great food and interesting culture.
Traveling to Malaysia for the first time? Post a question in the comments section below, we'll respond with advice!