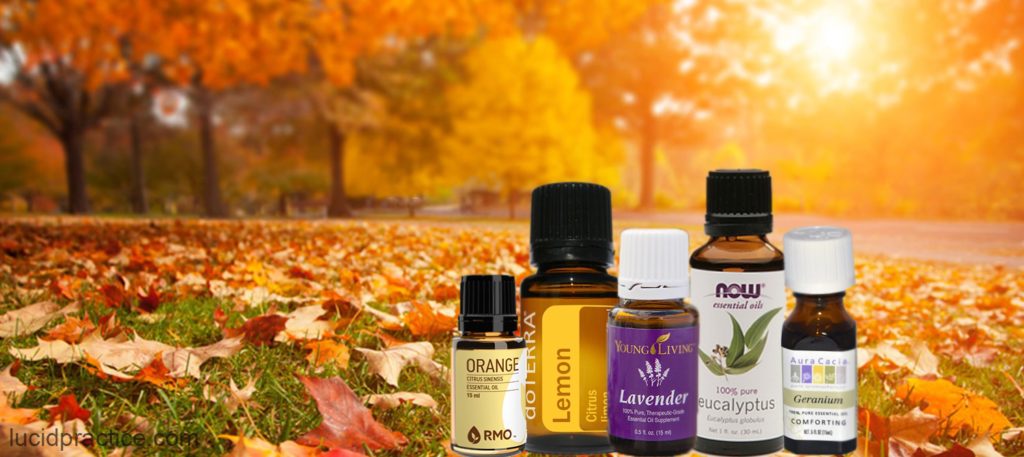 Essential Oils for Autumn — 5 Benefits
Essential Oils for Autumn
Essential oils for Autumn are indeed essential as the days become shorter and temperatures become cooler.  The dog days of summer are long gone, but there is no need to feel blue when essential oils have your back!
Here are 5 Benefits of Essential Oils for Autumn:
1. Start the day fresh — warm water and 5 drops of lemon essential oil.
Lemon essential oil is one of the best essential oils for Autumn. Ingesting warm water with lemon detoxifies the liver and body as a whole. As we transition into autumn, our internal organs are transitioning too, so aiding in detoxification is super useful. If you have an actual lemon, that's perfect! But if we are on the go, it is much simpler to pack a tiny bottle than a lemon that needs to be cut, squeezed and stored. I suggest doTerra lemon essential oil which is sourced from REAL lemons and creates the exact same taste!  *Note: Not all essential oils are for internal use, please read the label.
Here's a link to an article on additional benefits of lemon essential oil.
2. Boost your immune system.
Who needs flu shots when you have an iron steel immune system! Along with drinking plenty of water, you can add Orange Essential Oil to give you increased circulation and to decrease inflammation. Orange oil has even been proven to have cancer fighting abilities. Gentle exercise, raw foods, vegetables, probiotics and garlic are also natural immune-boosters.
3. Embrace gentle movements.
As temperatures cool, we naturally spend more time inside.  But, don't let this stop you from being active!  Yoga is the perfect answer to moving our body.  Essential Oils can also make your yoga practice grounding, opening and fun!  My favorite essential oils for releasing tension and expanding the heart are: Lavender, Geranium and Orange.
4. Align yourself with the season.
In Autumn, the sun goes down earlier and you can too! Essential oils can aid you in relaxing and winding it down before bed.  Try using an essential oil diffuser.  This aromatherapy experience will calm the nerves and help you fall asleep faster. Essential oils such as Lavender, Chamomile, and Sandalwood are perfect for this. I also recommend making herbal tea before bed. The warm water and the calming herbs will help improve the quality of your sleep.
5. Receive an energy boost
Sometimes it can be difficult to wake up in the morning when the sun has not yet risen. With less sunlight throughout the days, essential oils can help provide that missing boost to help you feel more energized. Experiment with Eucalyptus, Peppermint, and Tea Tree Oil as energizing, uplifting oils for the Autumn season.
~~~
I hope that now knowing these benefits gets you jazzed up about essential oils for Autumn! I am a lover of essential oils because of the natural wellness oils empower. Let me know how these benefits work for you! Do you have any favorite essential oils for Autumn? Have fun and stay strong, healthy & balanced this Autumn 🙂