6 Key Lessons from Lao Tzu Poem
Key Lessons from Lao Tzu Poem
Danielle made this card for me over the summer at a time when I was working probably "too hard" on a few projects.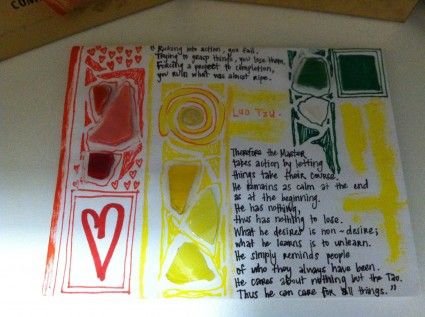 The card features a beautiful poem by Lao Tzu:
Rushing into action, you fail.
Trying to grasp things, you lose them.
Forcing a project to completion,
you ruin what was almost ripe.Therefore the Master takes action
by letting things take their course.
He remains as calm at the end
as at the beginning.
He has nothing,
thus has nothing to lose.
What he desires is non-desire;
what he learns is to unlearn.
He simply reminds people
of who they have always been.
He cares about nothing but the Tao.
Thus he can care for all things.
I've referred to this poem often over the past few months when I felt myself grasping for control of projects.  Any time you're feeling stressed with work, with a relationship, or any other situation, read this poem. It brings calmness and helps us surrender.
Earlier this week, I discussed this poem with a few friends I love and respect. Each person provided insights as to how the poem speaks to them. We came up with several key takeaways from this poem:
6 Key Lessons from Lao Tzu Poem
Trees don't rush, they still grow. Water doesn't rush, it still flows. We are like nature, rushing is not needed.
Help other people see themselves as light and love.
Relinquish control and surrender to God and/or the Universe. (Thank you for this one, my dear friend, PM)
Clinging to current and/or future possessions (money, objects, ideas) leads to unneeded suffering.
Be open minded and humble with what you think you know
Once you realize there is a larger force at work, you can be at peace.
How does this poem speak to you?