Lucid Lessons from Compo Beach Summer League Basketball
On a random Wednesday, a group of our friends had a night we will never forget. It was not what some people would say was an "amazing accomplishment," but to us, it meant a lot.
This practice or journey started in the summer of 2012. Eight friends got together and played 9 summer league basketball games in the Westport/Weston Parks and Recreation Summer Basketball League. It was fun. We won some games and we lost some games. The summer league playoffs started and ended quickly with a first round exit in the playoffs.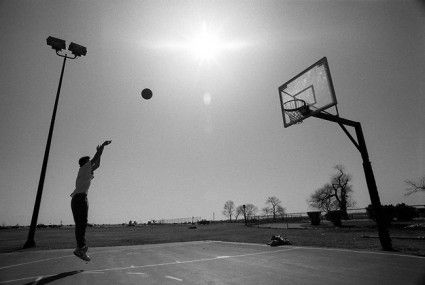 All winter the core of this group of players began to play. Getting together a few times a week at regional pickup games, we had more chances to find release, happiness, and serenity in the game of basketball. We practiced playing together and got better.
I should note that five of the seven players on our team, The Nats, have been best friends since I can remember. We will give their initials. BL, TR, MD, WR, WM, are brothers. We have played together and hung out together since elementary school. Some of us even went to pre-school together. MK moved to Westport at the start of high school and has been an amazing friend and teammate over the years. CS joined the team this summer and was a blessing to hang and play with. He proved to be the energy behind what turned out to be a good team.
The makeup of the team is exactly what you would expect of kids from a suburban New York City town. Semi-athletic kids who have a decent grasp of the sport of the basketball. We play for fun.
The 2013 season began rough. We lost to a team called Rivel Research in game one. After the rough first game, we got in a groove. We began to play well versus teams that did not present much of an opponent. We gained confidence and started playing together. We beat the likes of R.D. Scinto, Tavern on the Main, Onepercentcure, Colony Grill, and Joe's gym. We then lost to a team called the Duck in an ugly outing scoring a total of 36 points. We got back on track versus a weak Festfair Fish and Chips team. We then lost the final game of the regular season to a team called RIP City.
We had made the playoffs and secured the 3 seed.
In our first playoff game, the semi-finals, we had the opportunity of playing the 1 seed, RIP City who had previously beaten us. We took the floor with confidence and won with a margin of victory of ten points.
We had made the championship.
The championship started out much like the 2012 season, rocky. We were all mentally exhausted after playing in a tough fought semi-final game versus RIP City. We came out flat and were down 28-13 at half time. We could not find a bucket.
Most teams might have gotten down on themselves and started bickering with each other. The Nats were different than most teams. When things got touch for the team, they didn't get down on each other or themselves.  The Nats encouraged each other and their positive energy was infectious. As a result, each player had the confidence to shoot, pass, dribble, and even make mistakes without feeling the wrath from teammates (bickering among teammates is a common theme on most basketball teams.)
But this could only go so far. There was 20 minutes left in their season and they were down by 15. Could the magical season be coming to a close in anticlimactic fashion? Well, if you know the Nats then you probably know the answer to that question. For the rest of our Lucid Practice readers: stay tuned in and lucid for next week, and Monday's 11am US Eastern Time post for the continuation of this story.
To read the rest of this story, click here.
~Stay Lucid