Lucid Practice Quarterly Transparency Income Report October~December 2013
Lucid Practice Quarterly Transparency Income Report October~December 2013
2013 has come and gone and Lucid Practice has made awesome strides. We started with an idea back in April of 2013 — we had been inspired for years by different websites and social media handles/users and we knew we could add even more positive energy to the space of online inspiration.
I (Brian) remember thinking to myself in 2012 and the early months of 2013, "I'd love to learn how to make a website." While I was on the internet for hours a day it was hard for me to grasp web design and the work that goes in behind the scenes.
Little did I know with vehicles like WordPress, web design is not as hard as one may believe. We continue to learn about HTML, Java, CSS, and SEO. It has been an incredibly fun process.
We want to personally thank everyone who is taking the time to read this. Thank you.
Every quarter we will update our readers on our blogging process. Our goal is simply to inspire others to practice. Whether that practice is asana or smiling once a day or eating clean foods, that is up to you. We *HOPE* to inspire practices based in love and positive energy. We *HOPE* to recognize and understand the fact that every breath we take in this roller coaster of life in Shakti is practice…asana is practice….eating is practice….family and friends are practice…life is practice.
As a wise man once said, "there but for the grace of God go I"…..I think that everything is here for us right now in this present moment….all of it….and let's be thankful for being thankful!
Traffic Summary:
AWSTATS Traffic (Stats picture above): Traffic continues to grow since inception of LP. We have yet to see a month with a move down in unique viewers or page visits.  In December we saw a near 400% increase from the unique visitor numbers of November. This was aided heavily by the website Stumble Upon.
Stumble Upon readers liked a few of our posts and that propelled us into higher levels of their algorithm. We are proud to let people know that according to AWStats nearly 24,000 unique IP addresses (computers/tablets/phones etc) visited Lucid Practice in December 2013.
There was nearly 42,000 page visits or what most people would commonly refer to as "hits." These numbers are humbling to say the least. To know that we may be able to touch one person's life out there who we do not know is an incredible feeling. To see and hear the comments shared on our site is even more so inspiring. We love seeing and hearing from the faces behind the numbers.  
Google Analytics Traffic: As has been the case for almost all the previous months since inception, the traffic statistics differ when looked at through the eyes of Google Analytics. GA has us at 12,485 visitors this month with nearly 15k total visits or "hits." If this were the case the growth would still be very positive.
Thursday December 5, 2013: We had our biggest day of the year according to GA on this day. 4,985 people visited the site. This came as a present from Stumble Upon. On that day we were looking at our references and nearly 4300 of the visits came from SU.
Google Page Rank: 0/10
We would have loved for Google to bump us when they did a PR update in early December or late November but it was not meant to be. We know that we need to improve our SEO in order for our PR to take off. We also know that social shares are increasing in importance. Many have talked about Google adding this to their algorithm. When this happens, we will see a significant boost.
Domain Authority: 18 (an increase from a DA 14 in October 2013) – OpenSiteExplorer
Page Authority: 26 (an increase from a PA 19 in October 2013) – OpenSiteExplorer
Alexa Ranking: 1,305,421 (an increase from 10,601,728 in October 2013) – Alexa
Sites Linking In: 336 (AHREFS) 555 (OSS) (an increase from 27 in October 2013)  
Social Media/Interaction: 
Twitter:
Twitter has been the main driver of traffic to our website. It has been our strongest social platform where we've connected the most with our readers.
We've experienced massive growth of followers. During the three month period of October 1 through December 31, we went from 4,500 Twitter followers to 8,600, a 91% percent increase!
We love interacting and connecting with many of our readers through Twitter and hope to do lots more in the future. Some of our most vocal supporters on Twitter have been @CoolMagic, @LelaindePeche, @AshleyQDavis, @thejoenazar, @faepanda and @FawnStudio. Thank you for your support!
Please, if you have not, reach out to us. We want to learn from you. Let's connect here on the Lucid Practice Twitter Page.

We've been routinely getting double digit "retweets" and "favorites" from our loyal followers. Here are some our top tweets (most retweeted) from the past three months: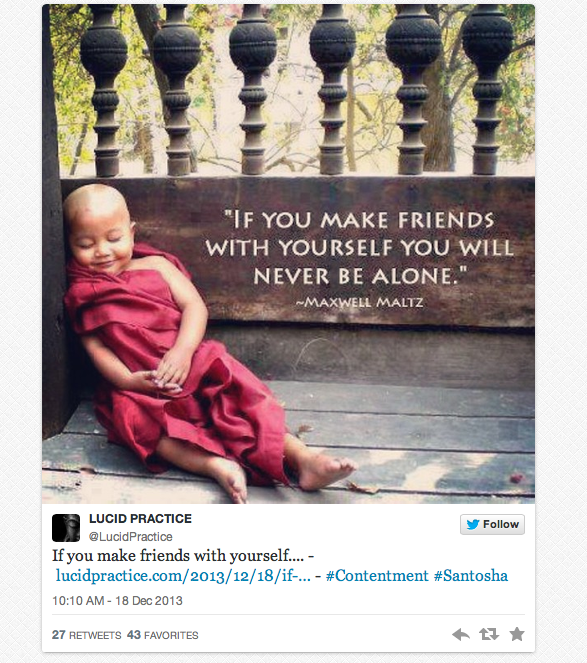 Facebook:
In our previous income report, we shared that Facebook likes had been hard to come by. This was because we hadn't been making a viable effort to reach people. Facebook has 1.2 billion users and we are firm believers in it's power to connect us with readers who are looking for inspiration in yoga, international travel, art, and wellness.
Brian really dug deep into Facebook in the last 3 months, increasing our likes from 6 likes on October 1 to 820 likes on December 31, a 13,566% increase. Most of this growth (80%) has been organic but one month ago we also signed up for Facebook advertising. This has contributed about 150 likes. We're thrilled to have been able to share the messages of love and positive energy to so many people on Facebook. Click here to connect on the Lucid Practice Facebook page.
Here's a screenshot of our Facebook page as of January 2 2013: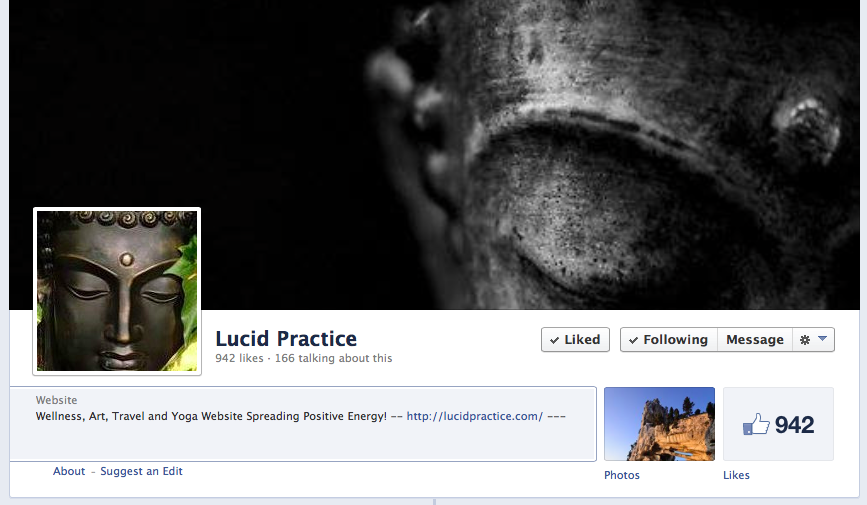 Pinterest:
Three weeks ago, Kate took the initiative to start our Lucid Practice Pinterest page. She's done an incredible job, adding 11 boards and 626 pins. We only have 13 followers so far but the foundation has been set. We're excited to connect with our audience on this amazing visual platform.
Comments:
One of our goals is to connect with people, answer questions about yoga, meditation, spiriutality, travel, art, and wellness. To build a community. We hope to inspire readers, to learn from readers. One of the ways to gauge this is through the comments section on our website. If people are leaving comments, it's a good sign. As of October 1, we had 34 comments. This increased to 122 comments by December 31, an increase of 258%! 
We encourage you to leave feedback, comments, and questions in the comments section. We'd love to connect with you, learn more about you, what your passions are, what your goals are, what makes you tick.
It's noteworthy that our readers Bob Campbell and "PM" have been the most active in posting their comments and sharing insights via comments on our posts. Thank you, we appreciate your contributions, we're grateful to be able to learn from you!
Our Blog Post w/ the Most views: Our post on Mildred Barthe's Happiness Quote received 7,465 views through a combination of Stumble Upon and Twitter.
Our Blog Post w/ the Most Comments: Our post on It's a Wonderful Life During the holiday season has 9 comments so far.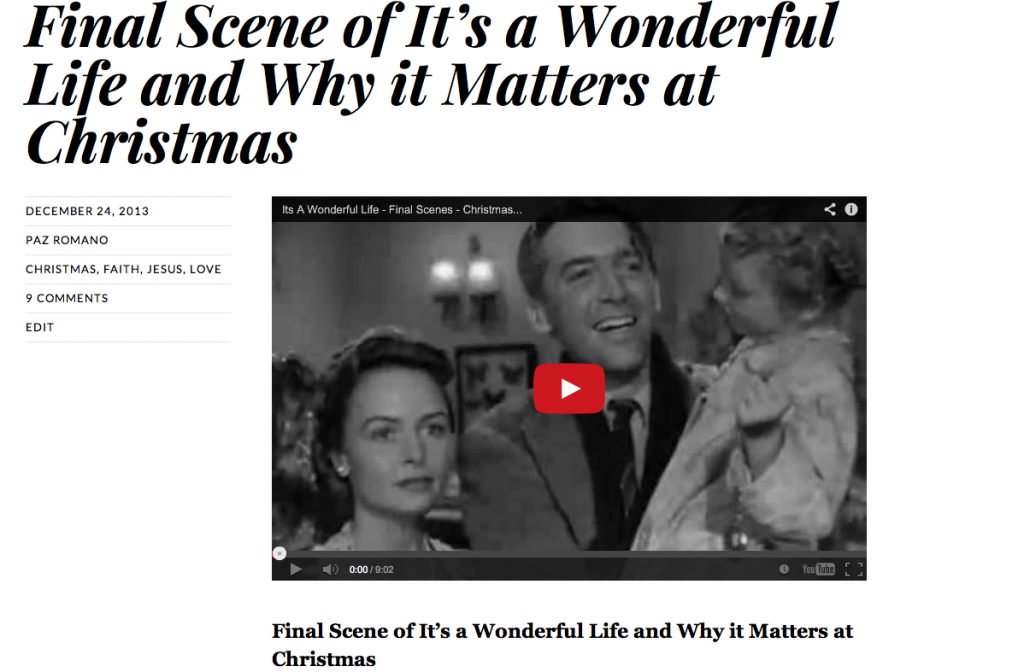 Most organic searches: Our post on backpacking Kuala Lumpur, Malaysia receives multiple unique views every day from travelers looking for valuable information.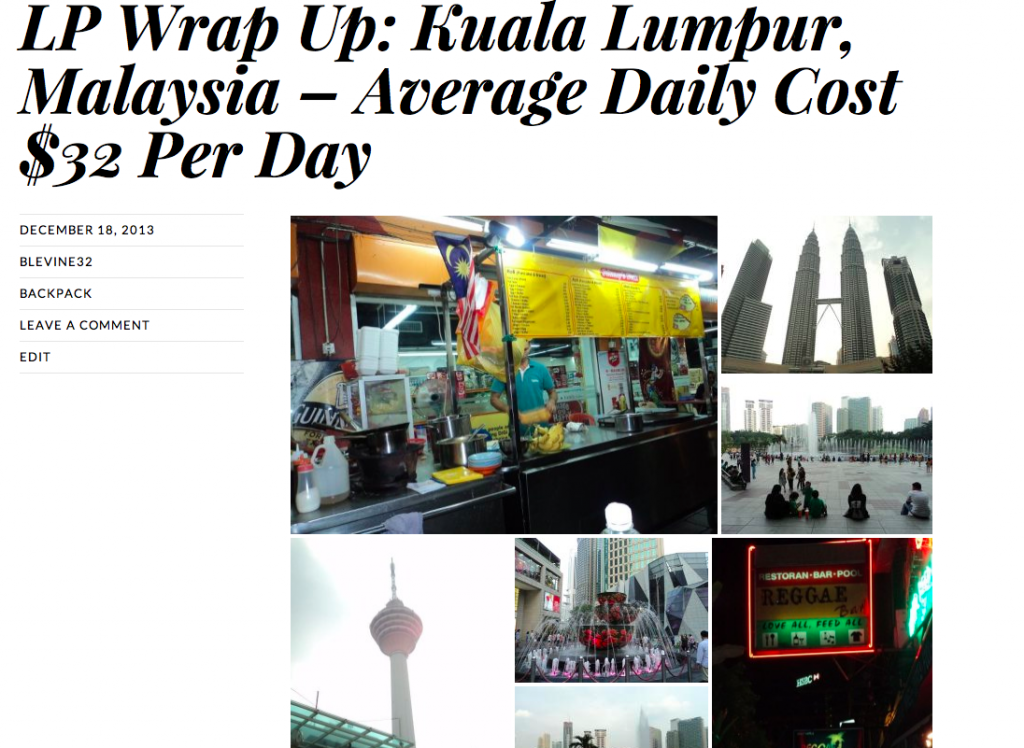 One post that we thought would be good but flopped: As bloggers, sometimes we think we have a great post that will really resonate with our readers…. but then when we share it…. crickets.
That's what happened when we wrote our two part piece on our summer basketball league. We worked hard on writing and recapping our team's remarkable season but the post barely received any shares or comments. This is perfectly fine, just an interesting observation 🙂 Here's a link to the Epic Summer Basketball Championship Team.
One post that ended up being more popular than anticipated: Conversely, there's often a post that you think nothing of, then it suddenly explodes. For us, that was the post on the Mildred Barthe quote featured above. We got thousands of unique visitors on this one post alone.
Advertising: We're still not doing any advertising though we are starting to cultivate relationships with advertisers. We have been approached by a lot of amazing websites wanting to promote specific products, books and such. Its a humbling feeling.
We are in a blog consultation program and learning everyday about how to make this a full-time job. Being location independent is something we believe is a true Lucid Practice. Hopefully, with time and practice, we can develop a strategy that stays true to our values and promotes links, products, activities, trip information on our site that we feel will benefit our readers.
Partnerships: Quite a few bloggers and writers have approached us asking for an opportunity to write for us. They see that we're growing quickly and want to "get in on the ground floor" so to speak. We haven't accepted any of these inquiries yet because we're not sure if we want to open up the platform. However, we are accepting guest posts and we're running an interview series in early 2014. Click here and scroll to the bottom to get involved!
Again, any partnerships must stay true to our values of positive energy, honesty, and inspiration.
Other Opportunities: Other bloggers and website owners have inquired about our methods for reaching readers on Twitter. We've developed somewhat of a "system" that funnels us organic followers every day. We've discussed developing a business plan or offering a course around Twitter for travel, yoga, and/or wellness bloggers but we're not sure if we'll go this route. Feel free to leave a comment below if you have any questions or click here and scroll to the bottom to contact us 🙂
What's Next? Next week, we're rolling out a series of interviews with yoga bloggers and travel bloggers. If you'd like to participate, leave a comment below or click here and scroll to the bottom to contact us.
Additions: We're proud to say that our teacher Rory Trollen, has joined us in our quest to inspire a passion for practice. Rory will be posting an article every three weeks. Click to check out his first article on Svadhyaya. If you haven't already noticed, Rory is a very special person and a gifted teacher. His contribution to Lucid Practice means the world to us.
Ryan Calvert has posted consistently since the beginning of LP and we are beyond grateful. The content he drops is fresh and different. Ryan's ear for dope music is something I've enjoyed since meeting him some years back at Penn. I continue to try to pick his brain and motivate him to post more because I genuinely enjoy the content he shares. We really enjoyed watching this video he posted last week.
Kate and Danielle continue to be instrumental parts of Lucid Practice behind the scenes although they're taking a more visible role of late with Kate running the Lucid Practice Pinterest page and Danielle contributing awesome posts like this Vegan Pizza Recipe. We're  grateful for their unending support ever since Day 1 of the site.
What We're Working On: We've come to find that our readers enjoy our original content. Our original content also drives "shares" on social media and email. Our original content posts have been drivers of organic search engine traffic as well. We're going to intensify our efforts in this regard. We're also going to be featured on other blogs via guest posts and interviews.
Brian is heading to Central and South America with Kate on January 23rd. We look forward to bringing you travel experiences and inspiration from another continent!
The Bottom Line:
Most bloggers wait until they're profitable before posting a report like this. We're sharing the process with our readers so you can follow along from the ground up!
Most importantly, we believe in what we're doing and we're in this for the long haul!
Whether you're a blogger going down a similar path or a loyal reader who enjoys learning more about us, thank you for reading this. Please add a comment below as we'd really like to hear from you.
What recommendations do you have? What have you liked about Lucid Practice so far and what would you like to see us improve upon?