Mouthwatering Gluten Free Vegan Pizza!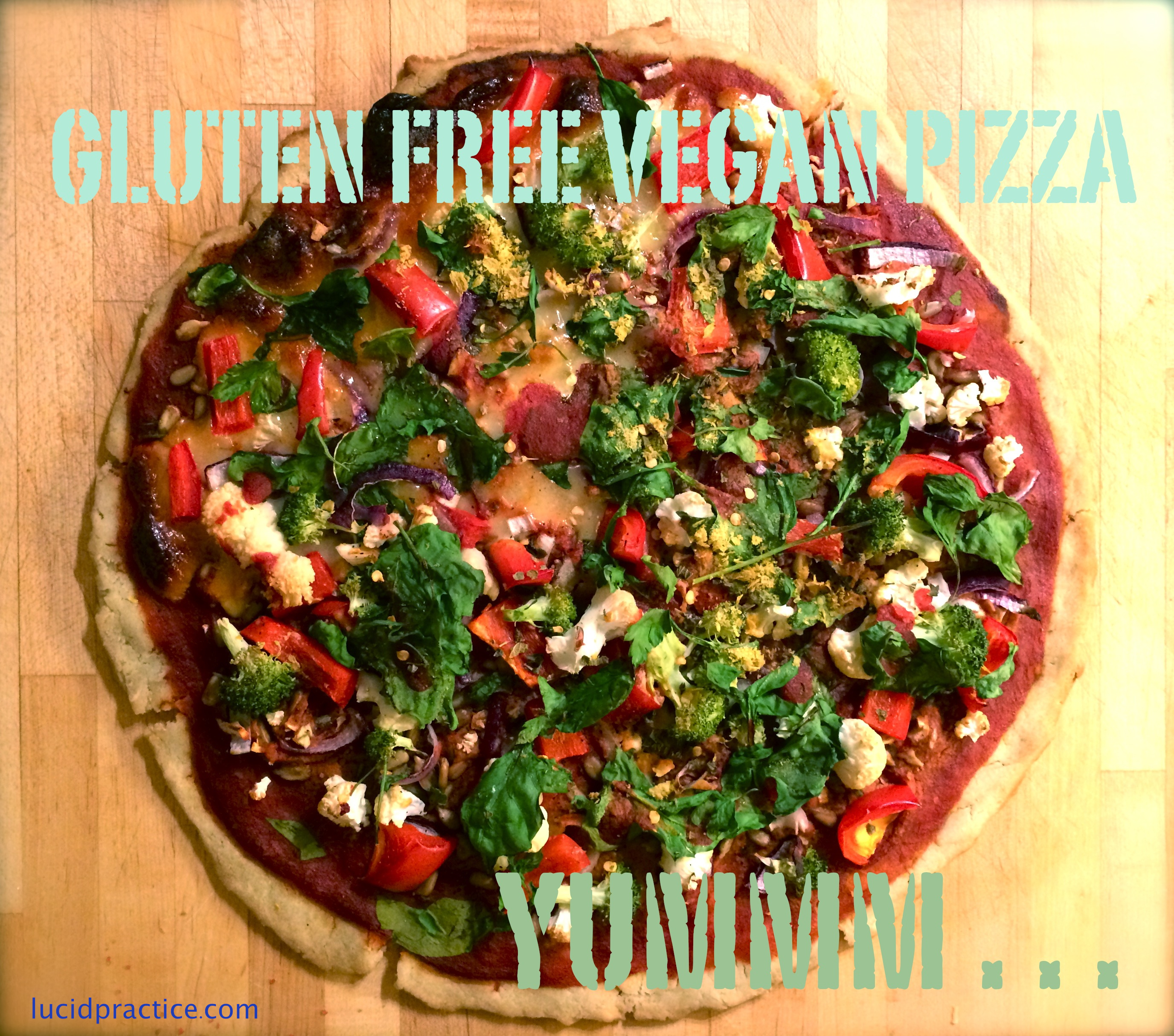 After my mom ate one bite of this pizza she shouted, "This is the best pizza I've had!!"  Not to mention, my tummy thanked me afterwards for remaining free of achy & bloated pains that occur from other fast food or frozen pizzas 🙂 Give this simple+to+make Gluten Free Vegan Pizza a whirl and I think you'll find it just as delicious as we did!
Prep Time: 12 minutes
Cook Time: 35 minutes
Total Time: 47 minutes
Ingredients
+brown rice flour pizza dough (2 C. brown rice flour, 1 tsp. sea salt, 2 tsp. baking powder, 1/4 C. coconut oil or olive oil, 3/4 C. water)
+tomato sauce
+nutritional yeast
+sunflower seeds
+garlic
+red onion
+spinach
+red bell pepper
+cauliflower
+broccoli
+parsley
+fresh rosemary
+black pepper
+sea salt
+cumin
+crushed red pepper
+oregano
Instructions
1. Preheat oven to 420 degrees
2. In a medium size bowl, combine brown rice flour, salt, and baking powder.
3. Add water and oil to the mixture to create a dough consistency.
4. Lightly coat a baking sheet or pizza stone with oil (so the dough won't stick!).
5. Plop dough onto the baking sheet/stone and spread out (working outward from the center) so that it covers the sheet.  You want the dough fairly thin (about less than 1/4 inch).
6. Place pizza in oven for 15 minutes to pre+bake.
7. Remove from oven and add tomato sauce & toppings.  I like to add the nutritional yeast, sunflower seeds, and garlic first.  Then I add the other ingredients and top it off with the other spices (rosemary, salt, pepper, cumin, crushed red pepper, oregano).  Additionally, I like to top it off with more nutritional yeast 🙂  (simply because i LOVE the taste!)
8. Pop pizza back in oven (same temp) for another 20 minutes (or until crust edges look golden brown).
9. Cut pizza and serve immediately since this pizza is tastiest when warm 🙂
**REMEMBER** the most important ingredient is: to bake with love 🙂
Enjoy and let me know how your pizza turns out!  What other gluten free doughs or recipes have you tried? 🙂