Lucid Practice Notes on The 5 People You Meet In Heaven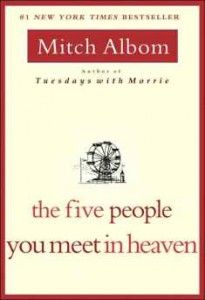 Lucid Practice Notes on The 5 People You Meet In Heaven
While traveling China, I found The Five People You Meet in Heaven by Mitch Albom on a hostel bookshelf. *Side note: Isn't it funny the books that you find in hostels while traveling?
Paz and I had enjoyed Albom's beautiful short book, Tuesdays with Morrie so I decided to read this book as well. When reading, I like to take notes so I can go back years later and essentially reread each book. I had found that it was difficult to remember all concepts and themes of books unless I diligently took notes and made a habit of going back every few months to reread. Do you utilize this practice while reading books?
Lucid Practice Notes on The 5 People You Meet In Heaven:
Heaven is where you get to make sense of your yesterdays. Make your yesterday's count.
Strangers are just family you have yet to come to know.
All lives intersect in heaven.
Heaven is where you spend and live your life. You cross paths with people you affected.
Always forgive.
Life has to end. Love doesn't.
Certainly interesting and beautiful concepts. What did you learn from reading The Five People You Meet in Heaven? Let's discuss the book in the comments section below.