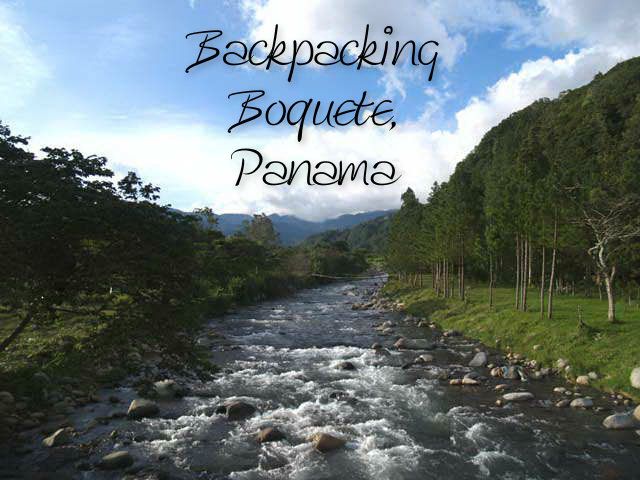 Backpacking Boquete, Panama Travel Guide – Average Daily Cost – $18 Per Day
Backpacking Boquete, Panama Travel Guide
Boquete, Panama : How to get there and what to do:
Boquete, Panama proved to be the perfect change of pace from the hot sun of Costa Rica.
Boquete is located in the hills of Northwest Panama, and it's a great spot for all types of travelers. While this mountain town is a hub for backpackers traveling through Panama, tourists and retirees have also found Boquete to be an ideal place to relax and take in some nature. We loved our five day stay here and look forward to coming back.
The heart of this small city is a few streets offering shops, tour centers, markets and restaurants. There is a beautiful bridge that crosses over the Caldera River – a great place to spend a day reading and relaxing.
How to get to Boquete, Panama :
From Costa Rica: After six hours of traveling we arrived in Boquete, Panama. We started in the Osa Peninsula in Puerto Jiminez, Costa Rica. We took a ferry across the Golfito Bay to a town called Golfito, Costa Rica. From Golfito we jumped on a local bus headed to "Canoas" or Paso Canoas, Costa Rica, the west coast border town between Costa Rica and Panama.
We then had to go through the somewhat challenging process of immigration. Panama expects you to have an outbound departure ticket when you come into their country. We think it's a bit of a scam; they either make you buy a bus ticket back to San Jose, Costa Rica ($14) or a plane ticket back to your home country. At an internet café in Canoas we decided to buy a flight back to the US – ten minutes after we got our stamp we canceled the reservation.
We crossed the border into Panama, a country that looks like a "sister country" of the United States. The highways are new and beautiful. The buses or "collectivos" are jitney-style and offer air conditioning. It's a pleasant change from some of the more rural aspects of traveling through Costa Rica.
We jumped on a bus from the border to David, Panama, a transportation hub located in the northwest of Panama. After about five minutes at the station, we boarded a bus for a 1 hour ride to Boquete.
If you are coming from San Jose, Costa Rica, there is a morning bus from the Tracopa terminal that leaves at 7:30AM ($15-20). This bus takes about 9 hours to get to David.
If you are coming from Panama City, Panama, there are daily flights to David which are about $100 each way. There are also both day and night buses from the Albrook Terminal. Look to spend between $15 and $20 on the bus from PC.
Many backpackers come from Bocas Del Toro, Panama. There are shuttles that run direct between Bocas Del Toro and Boquete ($29). We suggest you bus to David and take a bus from David to Bocas ($10). This route adds an extra hour or two to your travel time, but is an easy opportunity to save money.
Where to stay in Boquete, Panama:
The Gaia Hostel. We had an amazing experience at this top rated hostel ($13). Its clean, comfortable, and spacious. Amenities include free wi-fi and inexpensive laundry service — but not much in terms of tours and activities. If you're looking for help arranging tours or excursions, take a walk to Hostel Mamallena, located in the Central Park square.
Word from the wise: always bring ear plugs and a sleeping mask to any hostel!
Top 5 Things to do in Boquete, Panama:
1)     Hike Volcan Baru.
Kate wrote a great guide about our experience trekking Volcan Baru. Check it out in the above link.
2)     Visit The Lost Waterfalls
This fantastic hike through a cloud forest that will bring you to three gorgeous waterfalls. It takes 1-3 hours to complete the trek depending on your level of fitness. On the way to the falls it is very common to see monkeys, sloths, and fascinating birds including quetzals.
3)     Boquete Coffee Tour
Many people head to the fincas of Dos Jefes, Kotowa or Café Ruiz. All of these are beautiful coffee plantations with plenty to see.  You will learn a lot during one of these sessions. The process of how your favorite brewer selects the coffee they serve may or may not scare you into switching to tea. We were impressed with the level of English at Dos Jefes. If you are on a short trip, this is not to be missed in Boquete.
4)     Cliff jumping and climbing at the Mini Canyon
A lot of backpackers love this day trip provided by Hostal Mamallena. Boquete features some incredible rock formations that are great for climbing and cliff jumping into the water. Bring sunscreen as the sun is very powerful in this area.
5)     Visit the Hot Springs
There are four or more pools at the Caldera Hot Springs and they are all-natural!! Skip the tour guide on this one and take a taxi — be sure to also arrange for a ride home. Entrance to the hot springs costs $5. Tip: Go in the early morning or in the late afternoon as the water gets very hot during midday.
Average Daily Cost of Travel in Boquete, Panama – $18-$23 Per Day
Hostel: $11 USD
Food: $5-$10 USD
Transportation: $2 USD
Traveling to Panama or Boquete, Panama for the first time? Post a question in the comments section below, we'll respond with advice!