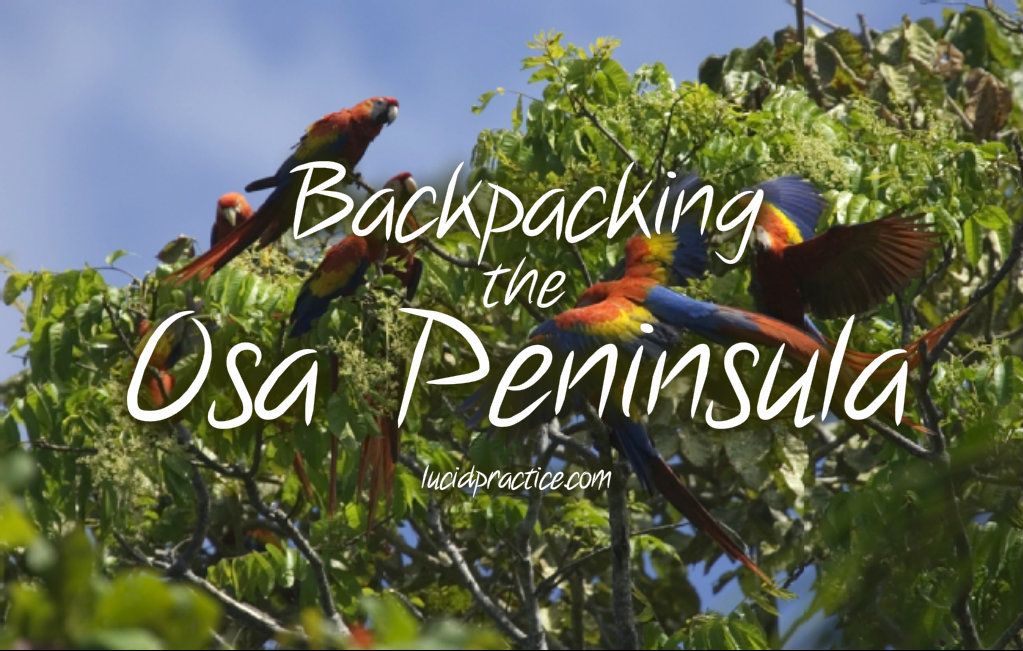 Backpacking the Osa Peninsula Costa Rica – Average Daily Cost – $35 Per Day
Backpacking the Osa Peninsula
The Osa Peninsula, Costa Rica : How to get there and what to do:
After days of a laid-back jungle lifestyle, surrounded by the most beautiful natural sights, I'm happy to report that the Osa Peninsula on the South Pacific region of Costa Rica is a must-see when traveling in Costa Rica or through Central America. The tropical rainforest and all of its inhabitants make this a truly unforgettable destination.
How to get to the Osa Peninsula:
How do you get to what National Geographic calls the "most biologically intense" place on Earth? Its easier than it sounds, although a bit of a long journey. The easiest, most direct, and affordable way for backpackers to get there is to begin in San Jose, the transportation hub of Costa Rica.
We flew from NYC through Fort Lauderdale into San Jose and spent one night in the city. The airport is a ways out of town, and taxis can be pricey, but the city bus is only about $2 USD! Bypass all of the aggressive taxi drivers at the airport, walk past the parking garage, and out the main entrance. When you get to the road, turn right and walk for about a minute. You'll see a few buses on the side of the road. All you have to say is "San Jose" and they'll direct you to the correct bus. The ride is about 25-35 minutes. The Van Gogh Hostel ($14 USD) was a nice, clean and secure, basic hostel in a safe part of San Jose for a travel day. The host, David, is very helpful!
Once in San Jose, take the 8:00 AM bus to Puerto Jimenez. Finding the bus station is a little tricky on your own! The bus station itself doesn't open until just before 8:00 AM, when the bus leaves, and there is only a tiny sign that says "Transportes Blanco" on a building on an out-of-the-way street. Since our español is pretty rusty, we found the easiest way to find the station was to catch a cab at the Holiday Inn near the center of town. The short cab ride was about $3 USD.
The bus cost 7,500 CRC (about $15 USD) each for obvious gringos. Maybe a bit cheaper if your nationality isn't so obvious. Buses leave at 8:00 AM and 12:00 PM. Our bus took 9.5 hours so we were very glad we took the 8:00 AM departure. Be prepared for lots of stops! The bus made 2 bathroom/rest stops and about 20 other stops, picking up locals that were walking on the road. Our bus was also delayed due to an accident.
The bus ride was long, but we really enjoyed getting to see so much of Costa Rica along the way! The scenery is beautiful.
Where to stay in the Osa Peninsula:
The Bello Horizonte Jungle Hostel! We couldn't have been happier with our choice to stay here! We picked it for the price ($14.76 USD), but ended up with some of the best experiences we've had so far on our trip. Peter and Lucia are the owners of this newer hostel and they are delightful. Peter, from California and English-speaking, picks you up from the bus station when the bus comes arrives and drives you to the grocery store to pick up groceries for your stay. The hostel is about a 15 minute drive or 45 minute walk from Puerto Jimenez, tucked into the secondary rainforest.
We met and became friends with travelers from Hungary, Russia, Germany, and France as well as the Tican staff. In the mornings we would wake up to little monkeys swinging around the trees right above you and being feet away from vibrant toucans in the clubhouse!
The accommodations are pretty rustic – electricity and Wi-Fi are only available in the clubhouse and only available from 5:30-10:00 PM! The rooms are open-air cabanas with a roof, 3 walls, and mosquito nets over the beds.
Word from the wise: bring a headlamp or a flashlight! The jungle gets dark at night. Duh. I also strongly recommend bug spray!
Top 5 Things to do in the Osa Peninsula:
1. Corcovado National Park. This is the main reason people come to this area. The national park covers most of the Osa Peninsula and is a serious trek on which you can find over 400 species of birds alone and 10% of all of the mammals that exist in the Americas. Be prepared to carry all of your food and water on your back for this 1-2 full day trek! A $10 permit and a guide are now required to enter the park. This website's tours have great reviews: Osatravel.com.
The trips can be expensive on a backpacking budget, but if you're in Costa Rica, do you really want to miss it? Tip: Make sure you're up to it! This is a strenuous trek and should not be taken lightly. Have you heard of Golden Orb Spiders? You will be sharing the forest with them.
2. Visit the Osa Wildlife Sanctuary. If the cost of the park guide is a bit over budget or if you haven't trained for the 21 km trek into Corcovada, you can still visit the exotic animals at the Osa Wildlife Sanctuary. The sanctuary is open to visitors between 9-11 AM and the entrance fee is $25 per person. Make sure you do your research first, as there are restrictions on what is allowed inside.
3. Walk the secondary rainforest trails! You're already in the rainforest, now explore it! Our hostel had trails all over the 10 acre property (at no cost to us), leading all over the jungle, down to little creeks. It was a blast wandering around, taking pictures and spotting sloths and different kinds of monkeys and tropical birds. Some local families offer guided tours around their properties for a small fee (about $5 USD).
4. Enjoy a beach on Gulf of Dulce. A few of us walked about 45 minutes down the road to a secluded beach on the Gulf of Dulce.
This cost us $0 and was breathtaking! Flocks of bright red macaws come to the beach during the day. We must have seen 20 in one tree alone. Bring lots of water, snacks, sunscreen, and a good book. Spend the whole day. You won't want to leave 🙂
5. Rent a kayak. Make your way into town and rent a kayak. Its only $4 per hour! Don't bring more than you need! You will get wet! As always… don't forget your sunglasses and sun block.
Average Daily Cost of Travel in the Osa Peninsula, Costa Rica – $35 Per Day
Hostel: $14 USD
Food: $10 USD
Transportation: $10 USD
This is a tough question to answer. There are many different price options you can go while backpacking this area. If you want to really see Corcovado National Park the average daily cost will be significantly higher. The park requires that you hire a guide to take you in and out of the park. This can cost around $85-120 USD per day with meals.
We suggest that you get into the park for a day or two and spend the rest of your time on the outskirts. This area has so much to offer. Whether its near Puerto Jimenez, Drake, Rincon, or La Palma there really is a lot to do. Obviously the world class park is the main attraction.
If you stay in a jungle hostel, cook your own food, and walk to most of your destinations, you can easily backpack for less than $25 per day.
Traveling to Costa Rica or the Osa Peninsula for the first time? Post a question in the comments section below, we'll respond with advice!