Backpacking Cartagena, Colombia: A Lucid Practice Travel Guide
Backpacking Cartagena ~ Average Daily Cost $36 USD
Cartagena is a beautiful and historical city on the Caribbean coast of Colombia. It is ranked as Colombia's top area for tourism and boasts many museums and ornate churches as well as beach views and a warm tropical climate. Whether your ideal destination is one with old city charm, exciting nightlife, or somewhere to work on your tan, Cartagena is sure to please.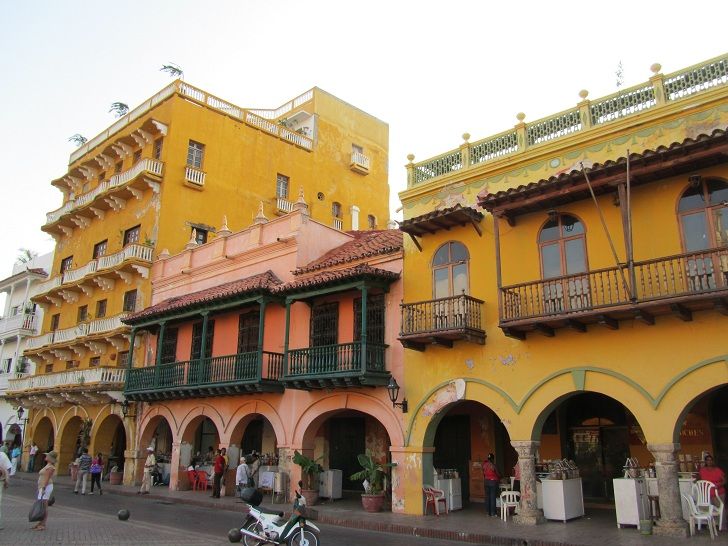 Colombian Currency: 
Colombia exclusively uses the Colombian Peso as their form of currency. Roughly speaking, $1 USD = $2,000 COP. We recommend you exchange as little currency as possible. Instead, withdraw pesos from ATMs ("cajeros" in Spanish) which are available in the airport, bus station, and all over the city offering the best exchange rate.
How to get to Cartagena, Colombia
How to get to Cartagena, Colombia from Panama City, Panama: Sail. Crossing from North America to South America by land is not possible at this time because of the roadless area separating the two called the Darien Gap. The best solution to crossing the border to the Caribbean coast of Colombia is to book a ride on a sailboat. These boat trips usually cost $450-550 USD per person. While this sounds very, very expensive, these trips include all of your food and housing for five days and take you on a once-in-a-lifetime trip to Panama's San Blas Islands.
Stephanie at itravelbyboat.com is a great person to get in contact with to schedule your trip. She always keeps an up-to-date schedule of all the captains in the area and will help you arrange transportation to the port. I have heard incredible things about the Independence, a 26 passenger sailboat. The bigger the boat, the more comfortable ride you'll have and, of course, the more new friends you'll meet!
Note: The first three days are spent enjoying the San Blas Islands, however, the last two full days are spent crossing the open sea. Be sure to bring seasickness medication!
The other option is flying. Flights from Panama City, Panama to Cartagena, Colombia cost $300-450 USD and usually have a connection in Bogota. I strongly suggest spending the extra $100-150 USD to sail and get an extra four days of incredible experiences out of this trip!
How to get to Cartagena, Colombia from Bogota: Fly. If you are able to book at least a week in advance, you can purchase this quick flight for $45-70. This sure beats the 20 hour bus that costs the same amount.
How to get to Cartagena, Colombia from Medellin: Bus. This bus takes 13-14 hours and costs $104,000 COP per person before negotiation. Colombian bus prices are negotiable! Work your magic. I took a night bus and suggest this option. The route is safe and the bus is comfortable with reclining seats and a bathroom on board. Bring a blanket and dress warm — the air conditioning is on max all night long. Earplugs are also necessary for this trip, as the music is still blaring past 3:00 AM.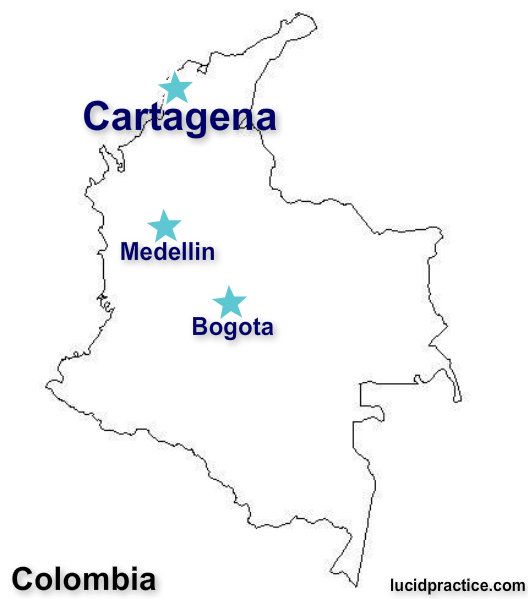 5 Things to do in Cartagena, Colombia
1. Walk the Wall. The historical area of Cartagena is known as The Walled City. As you may have guessed, this area is surrounded by a massive stone wall that dates back hundreds of years to the Spanish Colonial era. The wall is still intact and is a popular and free tourist attraction for all who visit the city. Wait for the heat to break when the sun starts to set and take a walk on the wall around the city. The best time to do this is before 10:00 AM or after 5:00 PM, as the walk is just too hot otherwise. Why not grab a $1,500 COP ($.75 USD) can of Aguila Cerveza or $1,000 COP ($.50 USD) lemonade and watch the sunset over the water?
2. Sight-see in the Walled City. Grab your sunscreen, hat, and sunglasses and get exploring. Everything in the Walled City is in walking distance, so check out some of Cartagena's many churches, including Iglesia de San Pedro Claver, which was named in honor of its priest after his role in helping African freed slaves. There are numerous museums to stop in as well, most ranging from $7,000-$15,000 COP ($3.50-$7.50). The Museo de Oro (Gold Museum) has no admission fee, is air conditioned, and is open Tuesday-Friday.
3. Hop on a Party Bus. Open air "Chiva" buses constantly tour Cartagena just outside of the Walled City. You can spot them by their bright colors and bumping music. Colombian and foreign tourists bring their own drinks and enjoy this ride around the city. Prices can vary so have your Colombian negotiation skills ready!
4. Visit Castillo San Felipe de Barajas (the San Felipe Castle). Its called a castle, but its more of a fortress. This 350 year old castle was built, along with the wall, to protect Cartagena from pirates. It takes around 20-25 minutes to get here on foot from the Walled City. You won't be able to miss this mammoth structure in the midst of an otherwise normal part of town. The real attraction of the castle is its role in the history of Cartagena and the sheer size of it. Skip the $20,000 ($10 USD) COP admission fee and appreciate it from outside. Inside the castle grounds, there are no guides, no information offered, and no museum.
5. Plan a day trip to Playa Blanca. Cartagena is located on the water, but if you're looking for a beautiful beach, take a 30 minute speed boat ride over to Playa Blanca on the nearby Rosario Islands. The price of the trip starts at $40,000 COP ($20 USD). This does not include the $12,000 COP ($6 USD) park entrance fee. Prices increase from there depending on what the trip includes (i.e. lunch, snorkeling, etc.). You'll be able to find many options at the marina. Save yourself money and a headache by purchasing tickets directly from the captain and avoiding middlemen with empty promises. Bring only what you need to the beach. If you feel like making a night of it, hammocks and rustic cabanas are available starting at $10,000 COP ($5 USD).
Where to Stay in Cartagena, Colombia
Well, that depends on what kind of backpacker you are…
If you enjoy a sense of security, quiet time after hours, old city charm, and quick access to historical sites,
Stay in the Walled City. Everything you need is in walking distance and its safe to walk at night! Great food, beautiful architecture, grocery shopping, souvenir shopping — its all here. The price of hostels start at $25,000 COP ($12.50 USD).
If you are traveling to meet other young people and are looking for the hot spot among backpackers…
Choose a hostel on Media Luna. Media Luna is a street 10-15 minutes (by foot) outside of the Walled City in an area called Getsemani. Hostels here are notorious for being the site of parties in the street until the wee hours of morning and attract young backpackers looking to have a good time interacting with other gringos. These hostels are a bit less taken care. Be sure to lock up your belongings, as bathrooms inside shared dorms are open to party-goers off the street. Hostel Mamallena is a popular option starting at $25,000 COP ($12.50 USD) for a shared dorm.
Food in Cartagena, Colombia
While Colombia isn't exactly famous for any one type of cuisine, you'll never go hungry here. A typical Colombian dish or "menu del dia" (menu of the day) consists of a small salad, rice, beans, meat, and soup and can cost $6,000-12,000 COP ($3-6 USD). While you're in the city be sure to try an "arepa", which consists of a grilled or fried homemade bun and is stuffed or topped with cheese. These can be found all over from different food carts and cost no more than $2,000 COP ($1 USD). Don't miss Colombia's native fruits, including the delicious "lulo" that can be blended into an amazing cocktail or eaten with a spoon. "Aguardiente" is the liquor of choice in Colombia. It is made from sugar cane and its closest English translation is "fire water," so maybe be careful with that.
By the way, the water is drinkable in Cartagena.
Daily Average Cost of Backpacking in Cartagena – $32 USD
Hostel: $25,000 COP ($12.5 USD)
Food: $35,000 COP ($17.50 USD)
Activities: $12,000 COP ($6 USD)
Total: $72,000 COP ($36 USD)
Have you traveled to Cartagena? Please share your experiences with us in the comments section below! Planning a trip? We would love to help!