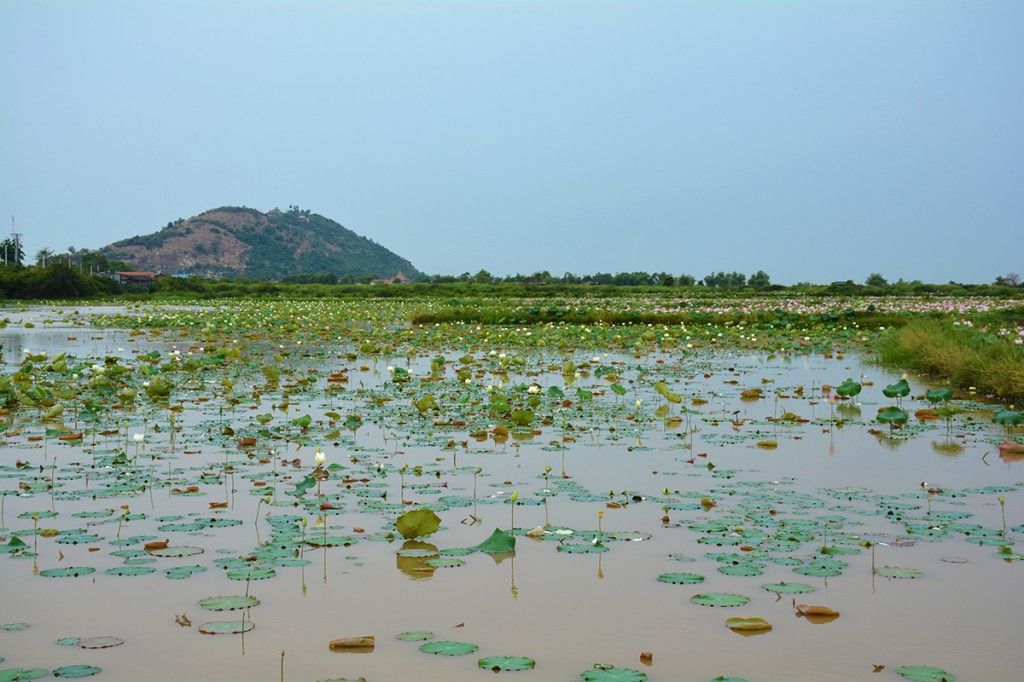 Week 2 in Siem Reap — Ta Prohm Temple and More
Exploring Ta Prohm Temple and Siem Reap
I was recently in Siem Reap Cambodia, teaching Art and English and learning the Khmer language. Here's a reflection I wrote about my second week in Cambodia. Hope you enjoy. 🙂
Upon reflecting on my second week in Siem Reap, Cambodia I feel I've settled in more and my schedule has not been as hectic (click here for Week 1 Siem Reap reflection).  I was still busy teaching at Pchey school, attending classes, and helping TGC for their Khmer New Year party, but it all felt easier this week. I knew more staff and students by name and I knew how to get around the city on my bicycle. This last week was also nice because students were on break so I did not feel the pressure to prepare for lesson plans.
The bike ride to Phnom Krom on Friday morning was great. I did not realize Hannah, Abby, and I hiked all the way up such a large hill until our way back — we had stopped to take photographs at a lotus flower field and I saw Phnom Krom in the background and said, "Did we really just hike all the way up that?!"  It was such a treat to experience temples for the first time, even if Phnom Krom is considered small.
Traveling to Angkor Wat, Angor Thom , and Ta Prohm Temple with Ponheary was incredible. These sites were a stark contrast from Phnom Krom.  The structure of the temples and the details engraved are unbelievable!  It was a long 8 hour day, but I was thankful we took an air conditioned van.
Angkor Thom translates in English to mean "great city" in Khmer — this is a fitting description. It is believed that at one point in time, over 1 million people lived here. The temples were then consumed by the forest until hundreds of years later. Check out the amazing engravings (believed to have been from the year 1150) below.
It is so impressive that Ponheary (as well as others) were/are able to withstand a career as a tour guide day in and day out.  The heat of the sun, long hours of trekking, and ability to remember and articulate the immense amount of history is a great skill.
I found it interesting that Ponheary is still a tour guide.  I thought that she now dedicated all her time to PLF and the guesthouse, but I guess I was wrong. Ponheary was confused why we chose this particular weekend out of all 10 of our weekends to go to Angkor Wat because of the vast amount of tourists during this time for Khmer New Year, but we coexisted, the other tourists only enhanced our fun.
We asked Ponheary what her favorite temple was and she said, "all of them."  For me, I think Ta Prohm Temple was my favorite because I love how the trees are a part of the structure.  It's so interesting that the trees grow through, around, and on top of the walls.  I also like that it Ta Prohm Temple is smaller and less popular than Angkor Wat.  Ta Prohm Temple is a place where one can read, relax, and enjoy the day in a comfortable area.  I am so thankful I was able to go on the tour with such a great tour guide and I look forward to seeing more of Cambodia's historic constructions in these upcoming weeks!
What are your thoughts on this area of Cambodia? Have you ever lived/traveled in Southeast Asia? Feel free to leave a comment in the comments section of this post!