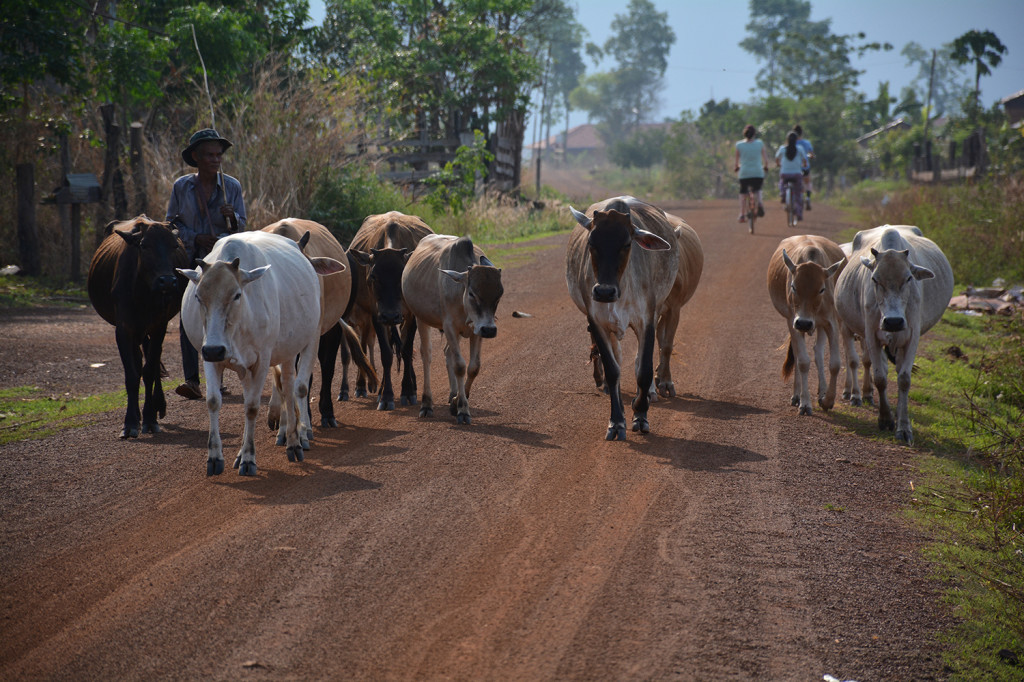 Koh Ker Village Cambodia Travel Week 3
I was recently in Cambodia studying the Khmer language, teaching English, working with NGOs, and traveling around the beautiful country.
This is a reflection from my time in Koh Ker Village Cambodia. Koh Ker Village is located deep in the Cambodian Northwest Countryside near the Thai and Laotian borders.
Koh Ker Village Cambodia
Upon reflecting this week, it was great to visit Srayang School/Dormitory in Koh Ker Village Cambodia.  Srayang is yet another school/organization that PLF (the NGO I'm working with) has helped evolve. I enjoyed visiting the remote village for our one week stay. The scenery was beautiful and it was nice to be detached to the internet/connection and busy-ness that bigger towns like Siem Reap encompass.
Teaching English in Koh Ker Village
I was also glad to begin teaching my first English class. The students of Srayang School that I taught were incredibly sweet. They are the first students in the village since 1979 to complete schooling beyond 3rd grade. It was obvious they were much less educated than the students in Siem Reap, but they they still knew quite a bit. Their ability to read/pronounce words in their workbook was outstanding, however, the students struggled understanding the meaning of the words they were saying.
I was so glad the classroom had a huge map of the world. This map came in handy the first day of class. I showed them where "Axel from Norway" (a character in their workbook) lived on the map and then I showed the locations of countries they've studied such as Cuba, Argentina, and Italy. They didn't understand what continents were, but I did my best to explain, and I think they (eventually) caught on . . .
Evolution of Srayang Dormitory and Guesthouse in Koh Ker Village
Our group's stay at the guesthouse was terrific. The Cambodia food they cooked for us (see below) was so delicious. It was interesting to hear the history of how not only Srayang School evolved, but Srayang's budding guesthouse as well. It is so great that PLF is not only improving the lives of the students at school, but also the surrounding communities. Lori (President of PLF) provided the family who runs the guesthouse with key information to help them run a more successful guesthouse for visitors (cooking meals to pay for electricity at night and tips on cleanliness). I can't imagine what it must have been like for Lori when she first visited all these places for the first time . . . and now seeing how everything has developed . . . and still seeing what improvements can be made.
A Touching Story in Koh Ker Village
I enjoyed hearing a story Lori shared about a Canadian man who initially came to Cambodia to become a monk but instead ended up teaching at Srayang after talking with Lori.  He was a Buddhist man who one day decided to drop all his possessions at home and become a monk in Cambodia.  After speaking with Lori, he had a change of heart.  The clincher was when Lori said to him:
"If you go become a monk, you will be Being, not Doing.  Your purpose is to be of service, you can find that at Srayang as a teacher."
He accepted her advice, deciding that helping PLF and Srayang School would be a wiser and more compassionate decision because they were in need of an English teacher when Srayang first opened. He then moved to Koh Ker and hit the ground running with the students who did not know a word of English.  After some time, he returned back to Canada (with much sadness to leave the village) in order to take care of his elderly mother.  Having spent so much time learning from the people of the village while also having a large impact on the community, I wonder if he will ever come back to Cambodia . . .
The Future of Srayang Dormitory and Guesthouse
My hope is that they will be able to find a teacher that can stay there 5 to 7 days a week to teach the students English. With all that PLF has done so far, I am confident it will happen in the near future.
In the comments section, let me know if you have any questions about traveling/living in Cambodia or any questions about the work that we're doing here 🙂 You also might be interested in my other posts on living, working, and traveling in Cambodia: